WELCOME TO THE STORY OF 'PLAYING WITH FOOD' - COOKBOOK (and music cd)
cooking Italian style
written and composed by Galliano Sommavilla
a multimedia hotpot of food, music, passion and Italian tradition....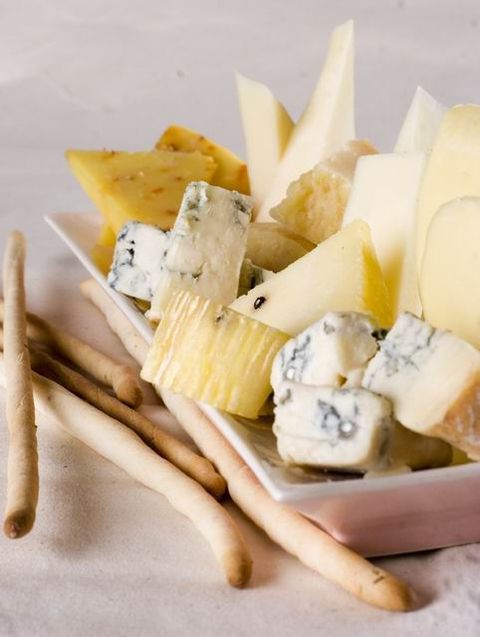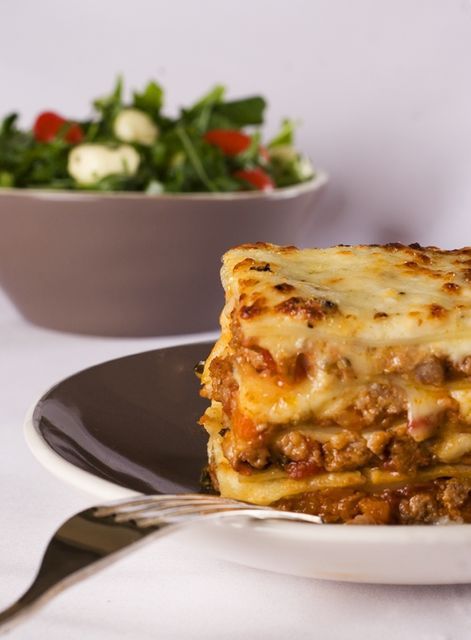 Whilst working a very busy waiters' shift (it was always ridiculously busy) at The Continental Cafe (Prahran) around 1996, I had this idea of producing a cookbook with an accompanying CD of my own original music. The food was to be Italian cooking, Italian foods that I enjoyed eating over the years but also and especially foods that I grew up with at home, predominantly northern Italian cuisine but also other regional foods of Italy as well. Although I had heard of cookbooks with music at the time, most notably 'Allegro Al Dente', Pasta and Opera (Reed Books Australia), there were none that I saw in the various bookshops around town where the author and composer were the same.
Let's go back a little.
My parents emmigrated to Australia in 1956, my Mother from Padua (Padova), a main city in the region of Veneto, west of Venice, and my Father from Belluno (Italian Dolomites), also in the Veneto region, about 100 km further north.
After much soul searching and trying to find their feet in this new land, they blindly ventured into the hospitality industry buying a cafe in Lygon Street, Carlton sometime in 1957. It was called 'Cafe Sport'. For whatever reason unexplained to us kids, the venture was short lived.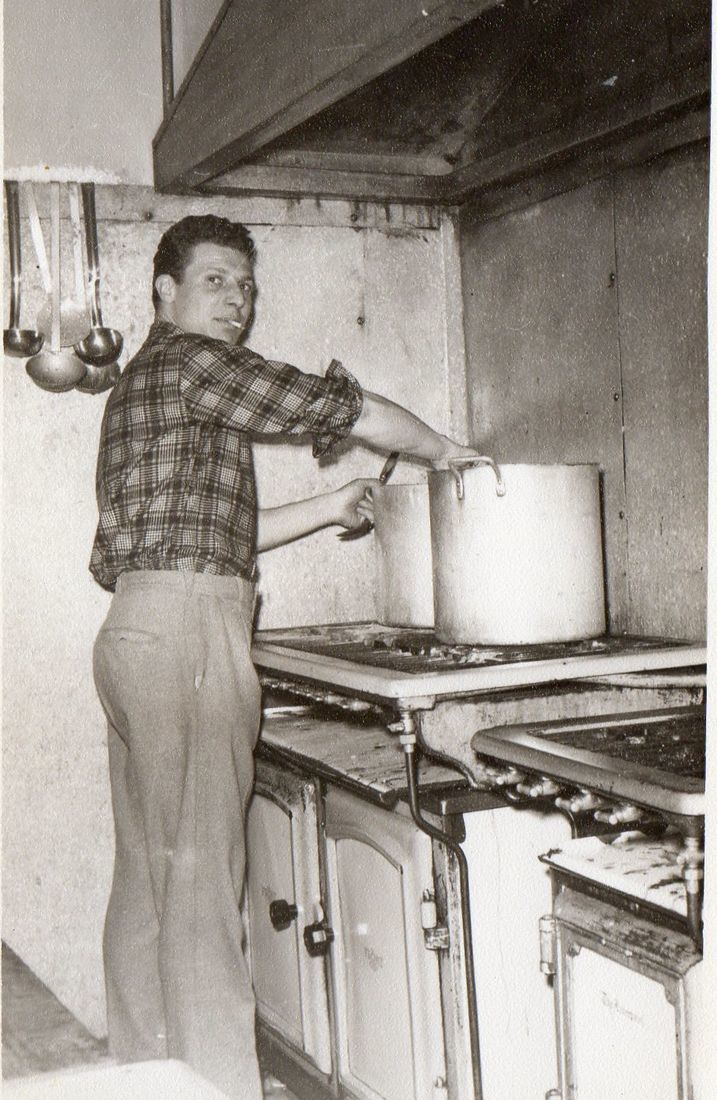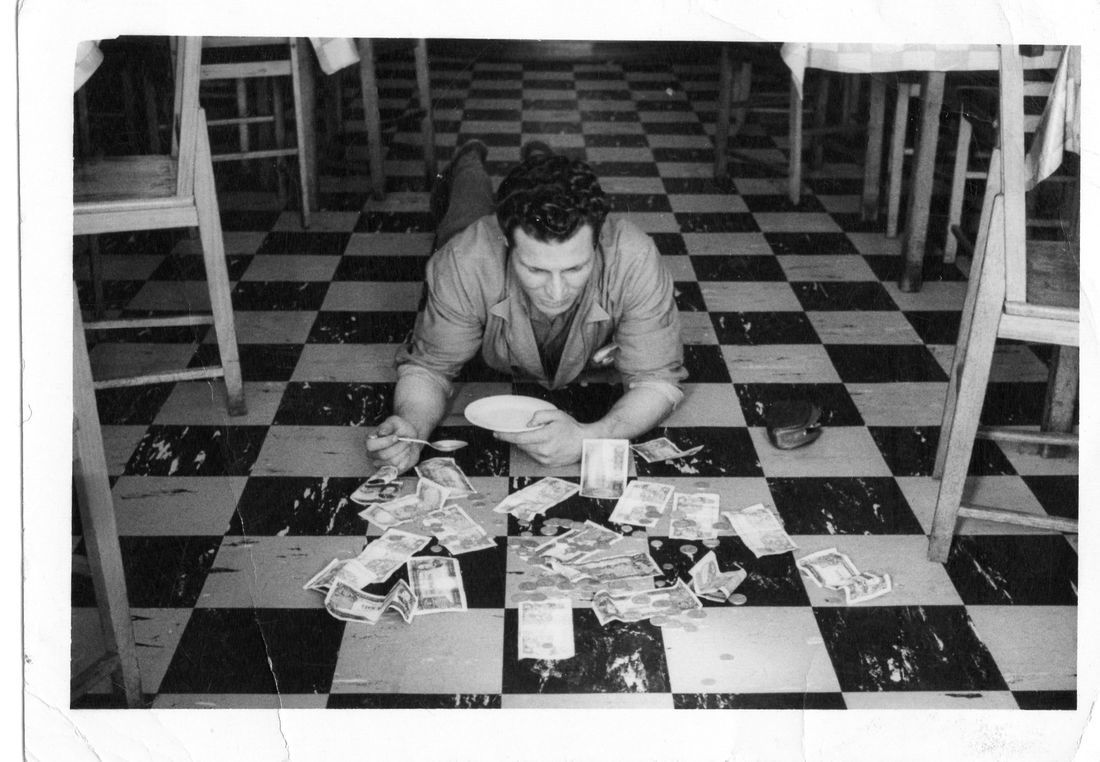 As per many immigrants of the era, my Father tried a variety of jobs in order to survive and provide for his wife and soon to be first child, my sister Cristina. He then discovered that, for him, cooking was to give him the best opportunity of stable employment in this new country and therefore started his life career from that point forward. He remained in the industry for 4 decades, and with much hard work, and much respected, his culinary career guided him through the pinnacle of Melbourne's finest dining establishments, including some of the oldest, from the late 1950's to the '90s. As Head Chef he oversaw the running of some of Melbourne's most decorated restaurants.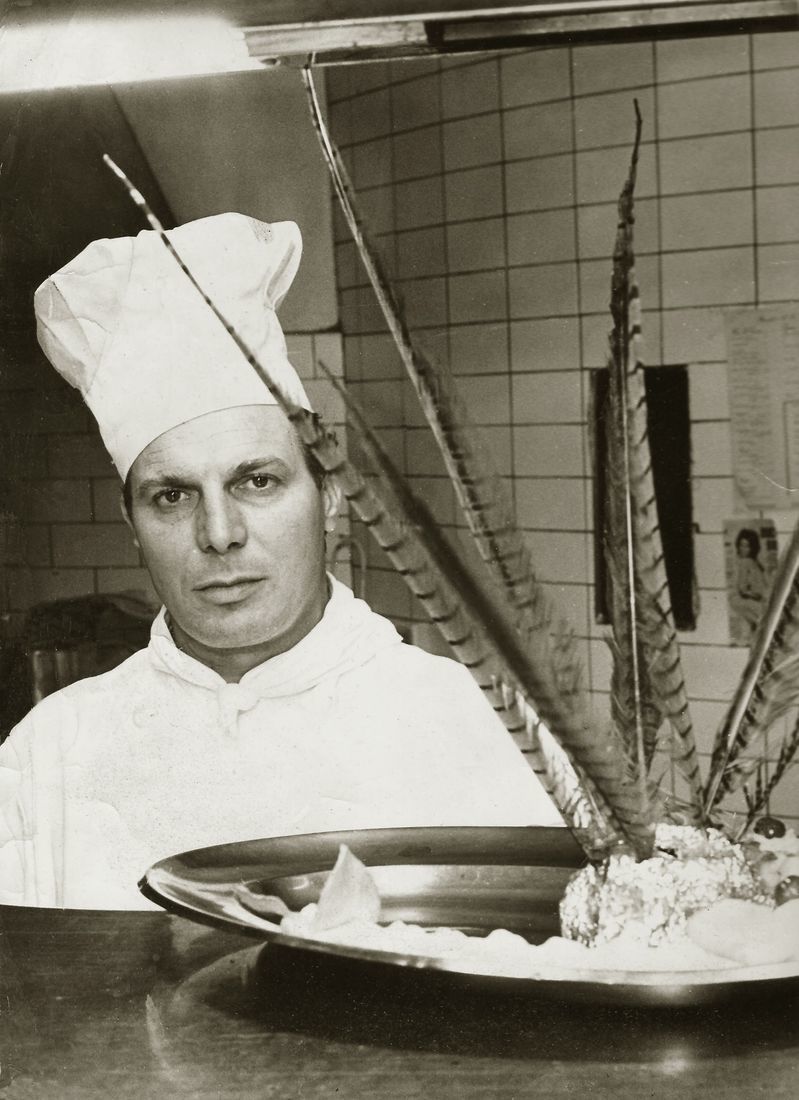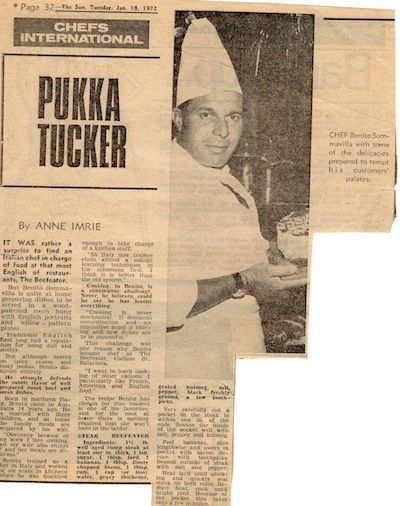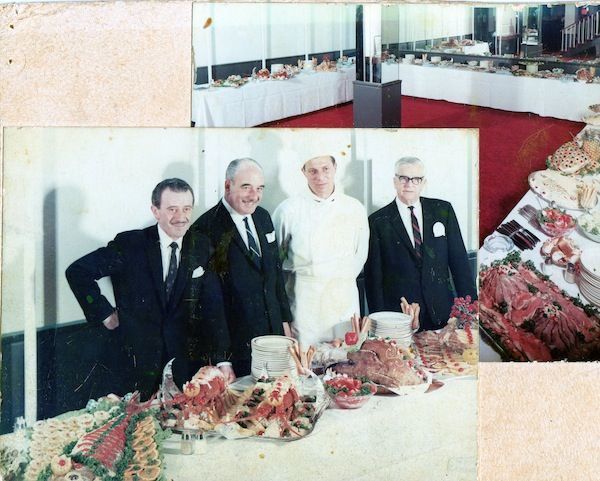 Some would assume that by writing this cookbook, there would of been times growing up at home that my Father would have taught me some basic cooking skills, told me stories about his job, food stories and the like. Sadly and disappointingly, this was not the case.
My Father worked 60-80 hours, sometimes more, all of his working life. Often he would leave before I woke up and get home after I'd gone to bed. Sometimes when I was getting ready for school , he'd be still in bed after coming home very late the night before. If anything, it was an opportunity to pinch some pocket money from his trousers for the days school tuckshop cravings, ham salad rolls, meat pie, sausage roll, lollies, cream buns, etc. I never got into the potato chips in a buttered roll thing!
It wasn't as if he had something to prove or that he enjoyed being away from his young family, it was just the nature of this vicious business. There was never this Monday to Friday gig, home on the weekend. It was more than likely a Monday to Friday gig AND working the weekend, day and nights!
Growing up I don't recall many instances of all of us gathering for special occasions like normal families, Christmas or Easter or Mothers Day, Fathers Day, Birthdays, etc. He worked all those days. Always. I don't remember him calling in sick either, I would remember, I spent many a day (weeks) home from school because of illness. He always went to work, regardless.
We used to go on holidays to Rye (Tootgarook, Rosebud), seaside towns on the Mornington Peninsula, Greater Melbourne, most years. My Mother, two sisters and usually a dog. My Father would drive us all up there (Valiant VE), then drive back for work and come and get us a week later. Sometimes he would join us briefly. Sometimes. During all these summer vacations, I also became good friends with Rosebud Hospital.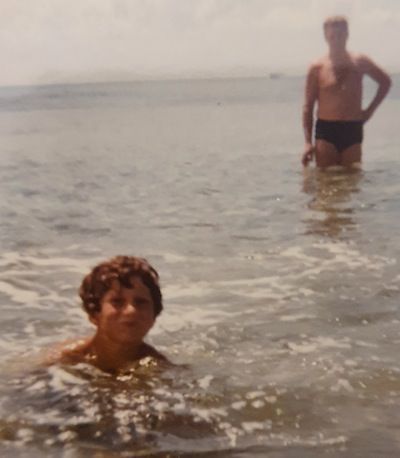 One time, when he was able to be there with us, he took me fishing off the pier in Rye. As he was casting the rod, the whole rod vacated his hand, landing in the water, impossible to retrieve. That ended up being my only ever fishing adventure with him. Back to work he went. That was the end of that!
That was sort of our relationship. I never really had him by my side growing up. I understand it now, I didn't then.
In late 1979, at the age of 16, a month before I had even finished the scholastical year, I travelled to Italy. It was mostly for health reasons as my asthma, since birth, had caused me insurmountable misery and hardship. I had been there before in 1975 (a months long family vacation with the whole family!) and noticed that when I was in the region my father came from (Dolomiti), my breathing was so, so much easier and manageable.
Eventually I found myself studying at Scuola Alberghiera di Falcade, about 35km northwest of where I was living in Belluno, the beautiful Dolomites of Italy, ski country. I didn't ski!
It was one of only two or three in the world of these particular and exclusive, specialist hotel management and cooking institutions. Students from all around the world. I was extremely fortunate to have been granted admission. I am not sure how it was possible for dad to pay for the tuition and living expenses, but he did and I am certain with due hardship and concern.
My auntie in Italy, Renata, my dad's sister, knew the Dean of Admittance. I suppose that was why I got accepted.
I was the only Australian! it was an incredible time. In that time my asthma (almost) disappeared.
Unfortunately, my beautiful eye opening adventure in Italy was short-lived and I returned to Australia 12 months later. I recall having an asthma attack not long after my return. Happy Days! Not!
During the time I was away in Italy, my parents and older sister Cristina had opened 'Benito's' in Brunswick Street, Fitzroy, an inner suburb of Melbourne, not far from the centre of Melbourne. The family restaurant.
It was the same premises that Stephanie Alexander (AO), one of Australia's most enduring and beloved restauranteurs and food writers, had just vacated her already famous restaurant 'Stephanies' (1976-1997) to another location across town. Many, many households all over Australia, including mine, have her wonderful cookbook 'The Cooks Companion'.
In early 1981, I started doing a few shifts at the restaurant (in the dining room) to help out, but the relationship between myself and my Father, I felt, was slowly deteriorating. For reasons I wish I could explain, I became an angry, sometimes selfish and disillusioned young man. I was never like that, especially since the time spent overseas was really quite an awakening of sorts, a wonderful time in my life, and growing up was a normal happy affair, except for my constant health battles.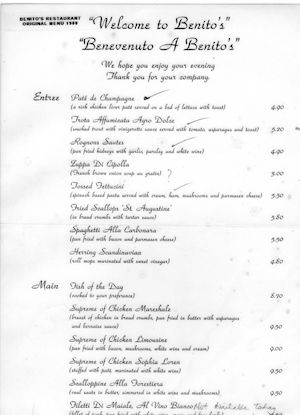 Lets move forward a few years.
Around 2002 I was working at a restaurant in the city. I used to catch the tram in, then a very brief walk, no more than a few minutes to reach my destination. On the way to work I used to walk past this large bookshop. After doing this for a number of months, one day when I was passing I noticed a yellow leaflet outside the bookshop......"Be Published". I picked up a copy of the leaflet, put it in my pocket, went to work.
I must of forgotten about it because many months later, I was cleaning out one of my drawers where I was living at the time, when this piece of paper slid passed to the floor. I leant over to pick it up, turned it over and it was..."Be Published". The yellow leaflet.
Years had passed since my initial idea at this point in time. I then started to think more about the cookbook idea again. There was this picture of dad, working at 'Petty Sessions', a well known restaurant in the city owned by famed restauranteur Richard Frank, that I always knew was going to be the main picture on the front cover. I knew I had my front cover. I had the title 'Playing with Food'. I knew that it was to contain my original music somehow.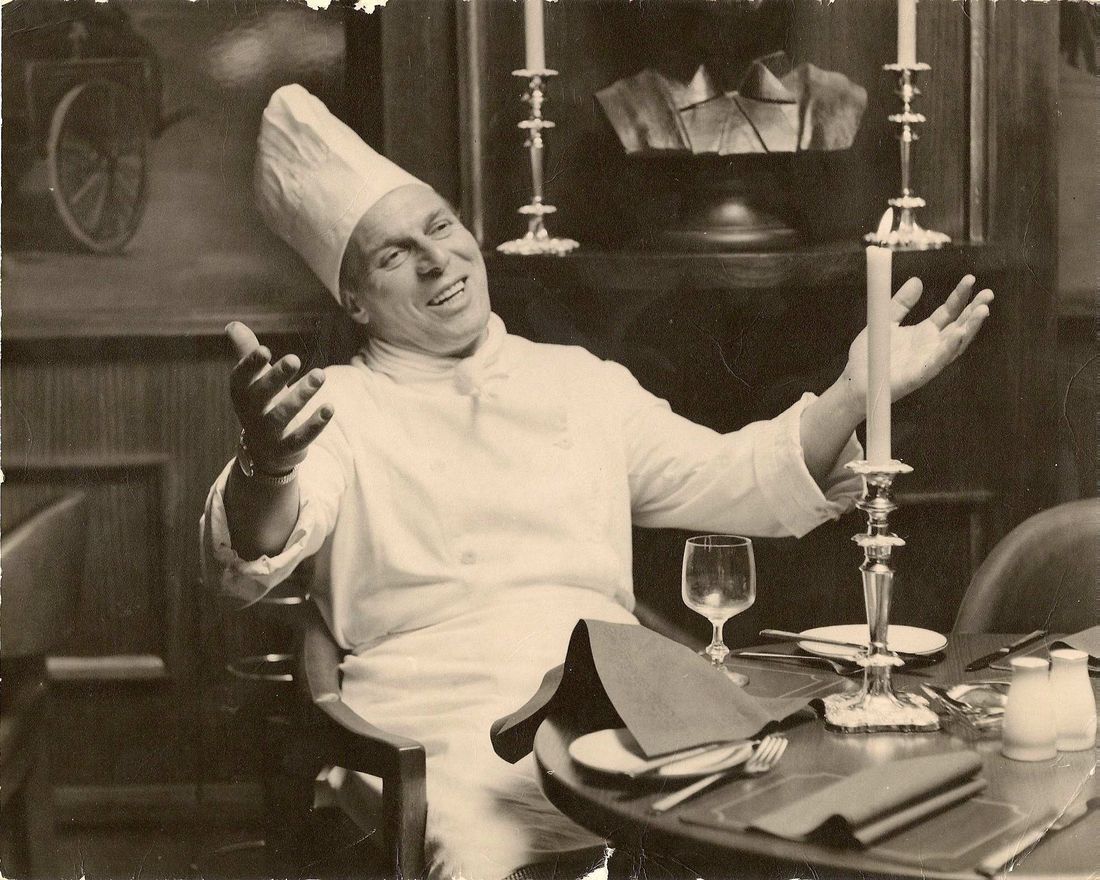 From the moment I left home to live with others or my own, I was accustomed to multi course dinner parties. I enjoyed immensely the whole facet of planning, shopping, preparing, cooking, serving, friends, colleagues, guests, sometimes family. Unfortunately or fortunately, which ever way you look at it, after so much effort and time (and monies, so much monies) that went into the preparation for the event in hand, many times I greeted my guests 'half tanked'.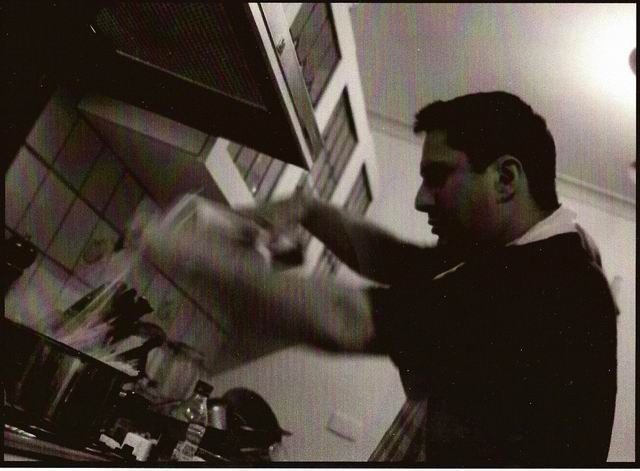 This has continued to this day, my gastronomic adventures. These days, however, I have greatly curtailed my drinking exploits, especially during these multi-course events.
I learnt along the way, over the years, picking up techniques here and there, lots of cookbooks, learning from kitchens at the places that I had worked. I am certainly not a chef in any stretch of the imagination, I am not even a cook, I just have this profound love and passion for food and a sincere appreciation for the science and lore of the kitchen.
One thing my dad always told me was when you start a job at a new food establishment, always, always make yourself known immediately to the kitchen staff. I always did that. I became friends with many of them, in the end I started to respect them highly.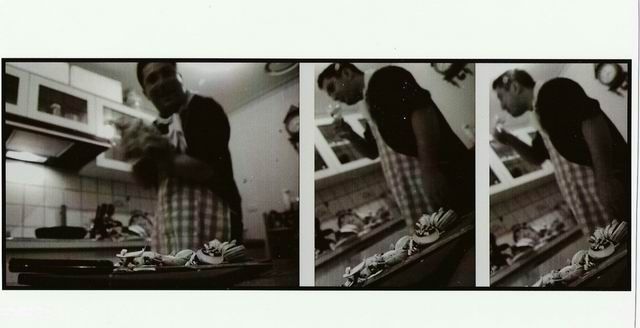 Years had passed and the relationship with my father was still strained at best. In hindsight, it was my fault.
I was angry and disappointed that he wasn't there when I wanted him to be. I felt distant towards him, lonely even.
I suppose it is true that dad had some difficulty in communicating with me as well.
In retrospect, in hindsight, in truthfulness, I wanted this book to try and bring us closer. I wanted to show him the respect that he and my mother fully deserved. I wanted him to know that "I get it now", I understand now the meaning of hard word and the innate concept of sacrifice, effort, commitment, heritage and family. I was very much hoping that I still had time to prove to him that I understood and respected what he had achieved.
I had been working in the hospitality trade (as well as my piano gigs since 1982) for about 10 years at this point, predominantly as a floor waiter, sometimes manager, and began to understand more the 'bastard' job of working in a kitchen, how difficult it is, how it takes you away from home for long, long periods of your life.
The leaflet. I called the number. I spoke to Mark Zocchi, the owner of the bookshop and publishing house. This was probably early 2003. I told him my idea for the cookbook, Italian cooking, regional cooking, with dad on the cover, my mothers artwork (oil paintings), custom artwork, and an accompanying original music cd composed by me. I remember him on the other end of the phone line loving the idea and wanting to organise a meeting. We met up initially not long after.
* I am so disappointed that the leaflet cannot be found. Having moved considerably since then, it more than likely got lost or misplaced somewhere in transit during those moves. It would of been great for me to exhibit a picture of it here.
I received a letter in March 2003...."Dear Galliano....it was great to meet you to discuss your Italian Cook Book and Music cd, the concept is quite exciting and more importantly for the book market quite creative and I think would be well considered by book sellers for the Christmas market in 2003."
There was now the issue of how to fund the book and this was primarily a self publishing project.
Self publishing, in this instance, revolved around Brolga building my book, then me receiving payment once the book has been contracted by book distributors, in this case, Pan Macmillan, getting my book into the book trade. But initially, the finance for the book had to come from me.
And books don't come cheap, especially with one like mine with colour photographs and music cd's attached!
(below) 'Tuscan' oil by Natalina Sommavilla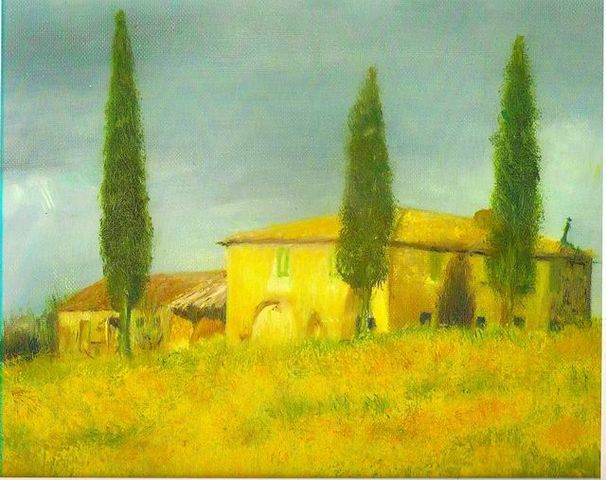 It is now August of 2003. We meet again to discuss the project. I show him the photo of dad, explain again the idea, show him some printed recipe examples, information relating to the history of Italian food that I wanted scattered on various pages throughout the book, ideas about the accompanying music cd, artwork from mum, the custom artwork, and most importantly now, my underlying passion for the project.
In September 2003 another letter arrived.
...."Dear Galliano, it was good to catch up again and see how much progress you have made....I will pass the text on to our type setter to commence typesetting and designing a few pages so that we can present to you....at this stage we are targeting an April 2004 release in time for Mothers day, a good promotional time in the book trade.......
A deposit is now made late 2003. To my absolute amazement comes the realisation that my book and cd idea Playing with Food will be published.
Something happened to stall proceedings after this time. It was probably me and my stupid life issues and for whatever reason, lack of focus and drive.
Over the subsequent course of the following year (2004) I still continue with the writing somewhat, the remaining recipes, some more research, food quotes, that sort of thing.
I also began asking my Father in a couple of instances (Zabaglione) for help in preparing some dishes.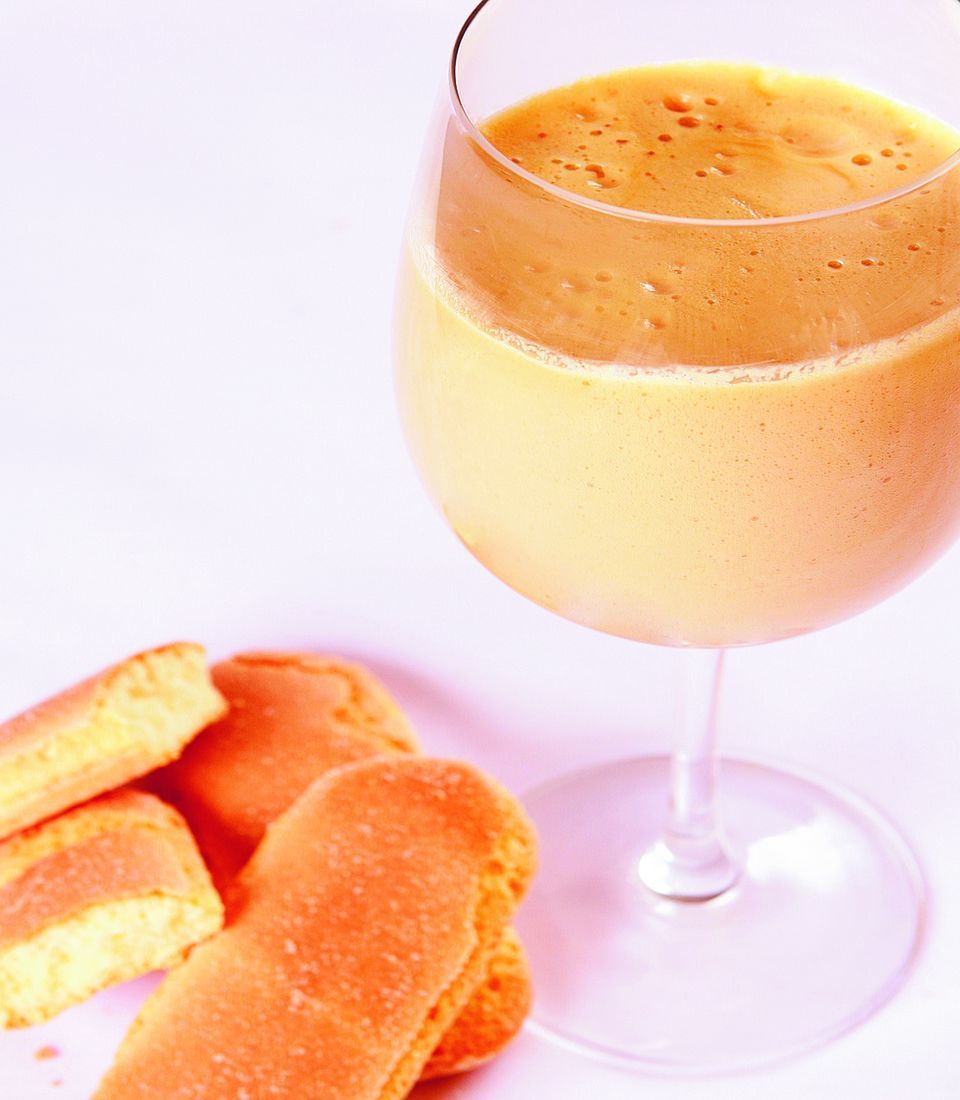 He had retired at that stage. I think he was cautious, curious but happy to help.
Eventually and oh so fortunately, things got back on track. I started seeing mock ups of the book, the front cover, the size, the font selection, how the cd was going to be included, etc. It was all, once again so, so exciting.
Nataly Papak and I met whilst working at the restaurant in the city. In our conversations at work she mentioned she was an artist. Over time, I explained to her the concept of the cookbook and asked whether she would like to contribute some artwork. The pictures she supplied me thereafter were just wonderful and suited the project immensely. She also managed to create a map of Italy with various food icons, created from a piece of cloth. It was amazing. It was photographed and incorporated into the cookbook with the names of the songs from the accompanying music CD superimposed on top.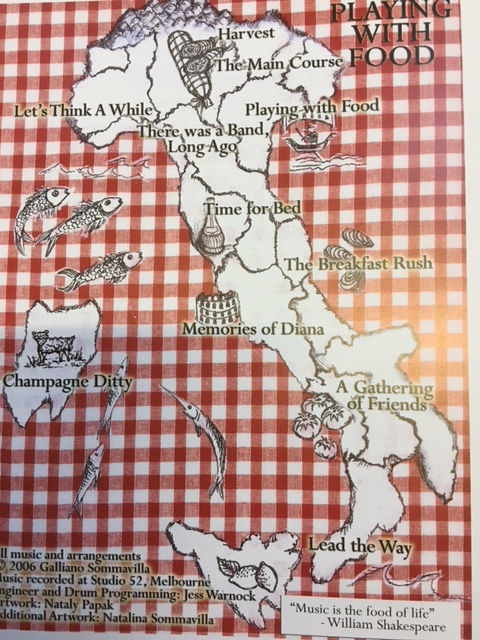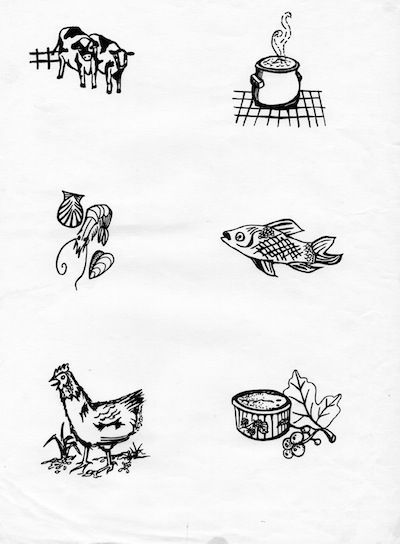 During the course of the final development of the cookbook, early 2006, I was working at a restaurant/pizzeria in Essendon, a suburb north-west of Melbourne. I was there quite briefly but in the meantime had a strong rapport with the kitchen staff, including the head chef and co-owner Jeff Rutkowski. He supplied me with the Pork with Balsamic dressing recipe (Maiale al Balsamico), page 72 of the cookbook.
I met Patricia Archivio, sometime in the middle 2000's, whilst working as head waiter of an Italian Social Club in Brunswick, an inner-city suburb of Melbourne. She was the club president. We became friends. Her cooking techniques resort back to her Mother and Grandmother, a testament to her love of (Roman) cooking and insatiable love for food. She kindly supplied me with her treasured recipe of Roman Easter Cake (Pizza di Pasqua), page 109.
She also supplied the recipe for Rolled Beef Roast (Rolle di Manzo), page 62, which she prepared and cooked herself.
As well, she generously (as was her nature) gave me some monies to put toward the production of the book.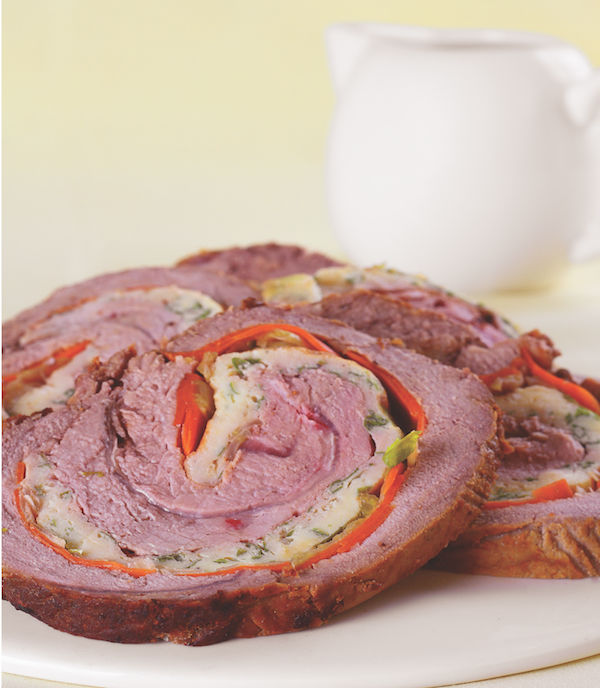 I have talked about Steven Michaelsen before. We had met at the Continental Cafe (Prahran, Melbourne). He was one of the chefs. He had fine culinary skills as well as being a fine musician. We became good friends and he became my drummer in my instrumental band 'Galliano and the Word'. You can read more here: https://www.galliano.com.au/the_story_of_rain_in_my_bathtub_buy.html
In the early stages of the concept of this cookbook, Steven provided culinary knowledge for me. He also supplied this recipe: Stuffed Calamari (Calamari Ripeni)
Steven succumbed to cancer in 2004, at age 36. He came to me one day and told me what was happening. Two weeks later he was gone. How I would have loved to have him see the book completed and published.
When it came time for the photographs, let me tell you, that was some eye opening experience in witnessing how food photography is prepared and executed. And the cost! Its not just a simple thing like 'point and shoot'.
The photography sessions (over 2 days) occurred at our then house in Coburg, a suburb of Melbourne, 9km north of the City. My wife, Maryanne, trusty loyal supporter and helper at this important stage of my life, by my side. Her Mise en Place is second to none and an immense benefit when preparing and executing these dishes for the shoot. To this day, her Mise en Place is what enables me to fully execute our culinary creations with ease.
She is the best chopperupperer!
*Mise en place is a French culinary phrase which means "putting in place" or "everything in its place". It refers to the setup required before cooking, and is often used in professional kitchens to refer to organizing and arranging the ingredients (e.g., cuts of meats, sauces, spices, freshly chopped vegetables, and other components) that a cook will require for the menu items that are expected to be prepared during a shift.
The practice can be applied in home kitchens.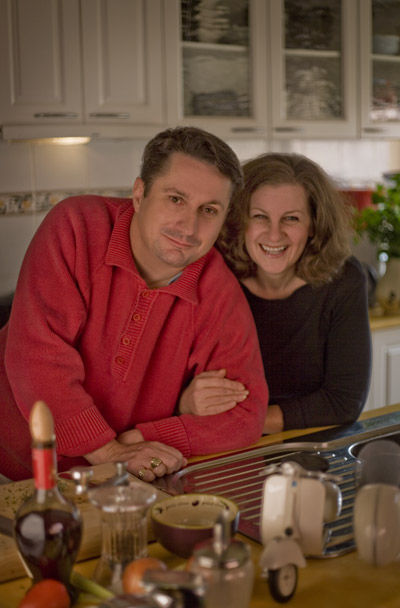 The photography was by Kirralee Ashworth.
The set up and execution of each particular food shot was so exhilarating but somewhat stressful. Prepare the dish, then plate up. The fun starts now, the art of plating, the many compositional techniques required for the shoot, correct background lighting, camera settings; aperture (for depth of field), angle, zoom, lenses, ISO, how much light, how little light, followed by a touch up with brushes, tweezers, water sprays, etc. Then maybe re-shoot, maybe more lighting adjustments, backdrop changes, prop changes. It was something to behold. Just to get that right picture. And all this before the food had lost any of its sheen, architecture, shape or look.
I was blown away when I was sent the finished product, especially knowing that they were to be part of MY book. 29 food photos in all!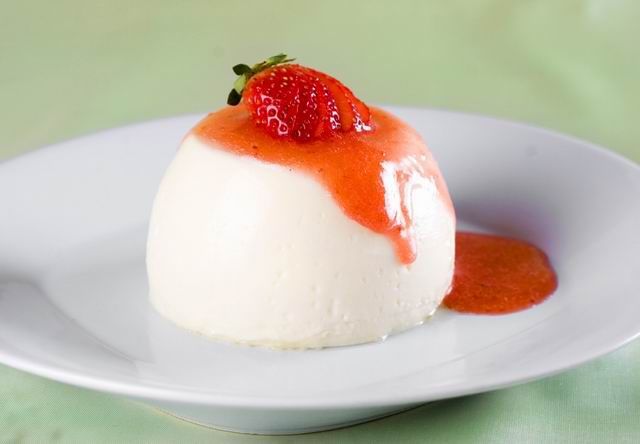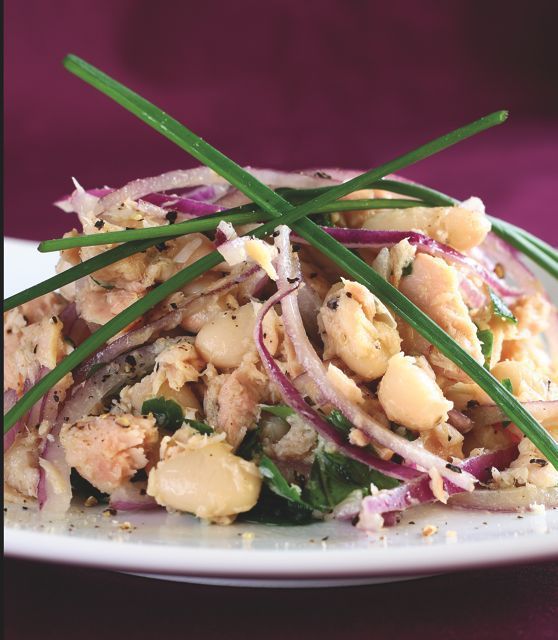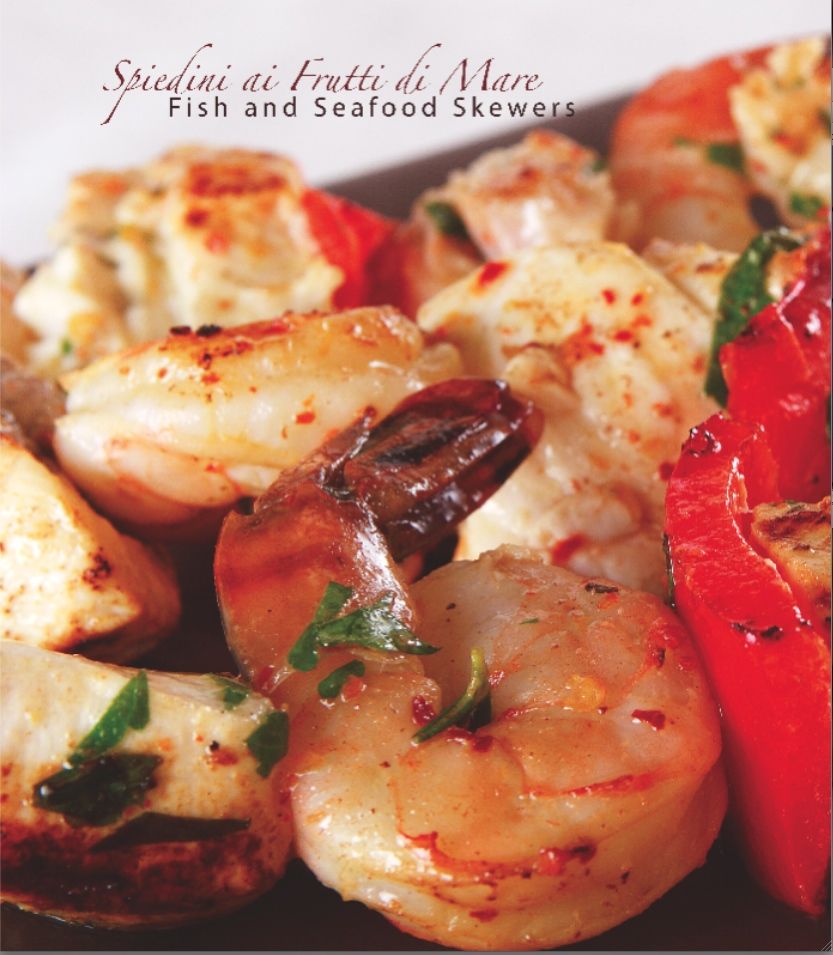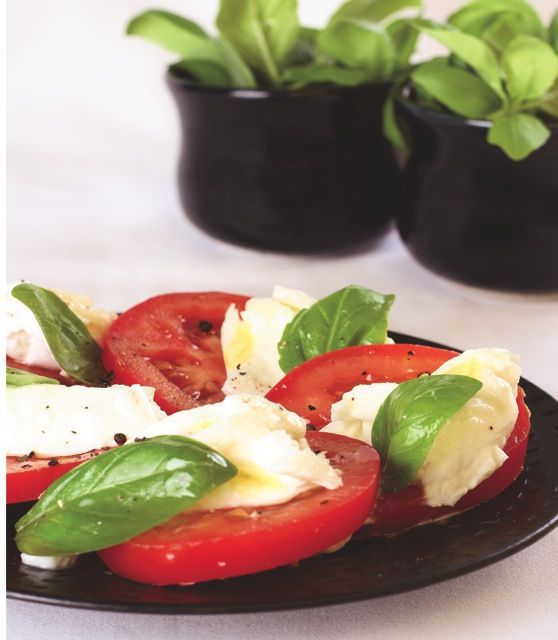 The only real problem with the photoshoot was the fact that on both occasions, Kirrawee wore high heels. Nothing untoward there, but when all was done and dusted, and couple of days after the event, we started noticing small holes on our delicate wooden floor!!!
I have dabbled myself over the last few years in food photography. You can check out some of my stuff on my
FoodPhotobyGalliano page here, https://www.galliano.com.au/food_photo_by_galliano.html.
It is an art form like no other. It's not just about the capture of light, it goes far beyond that. I am getting better at it, slowly.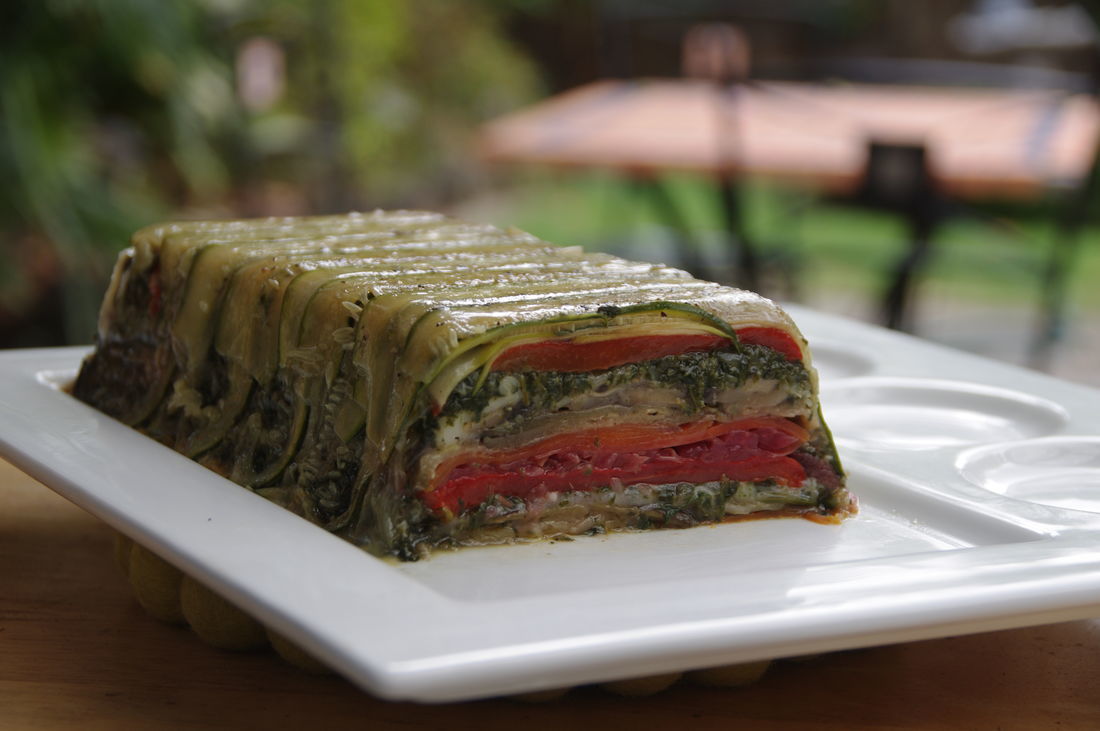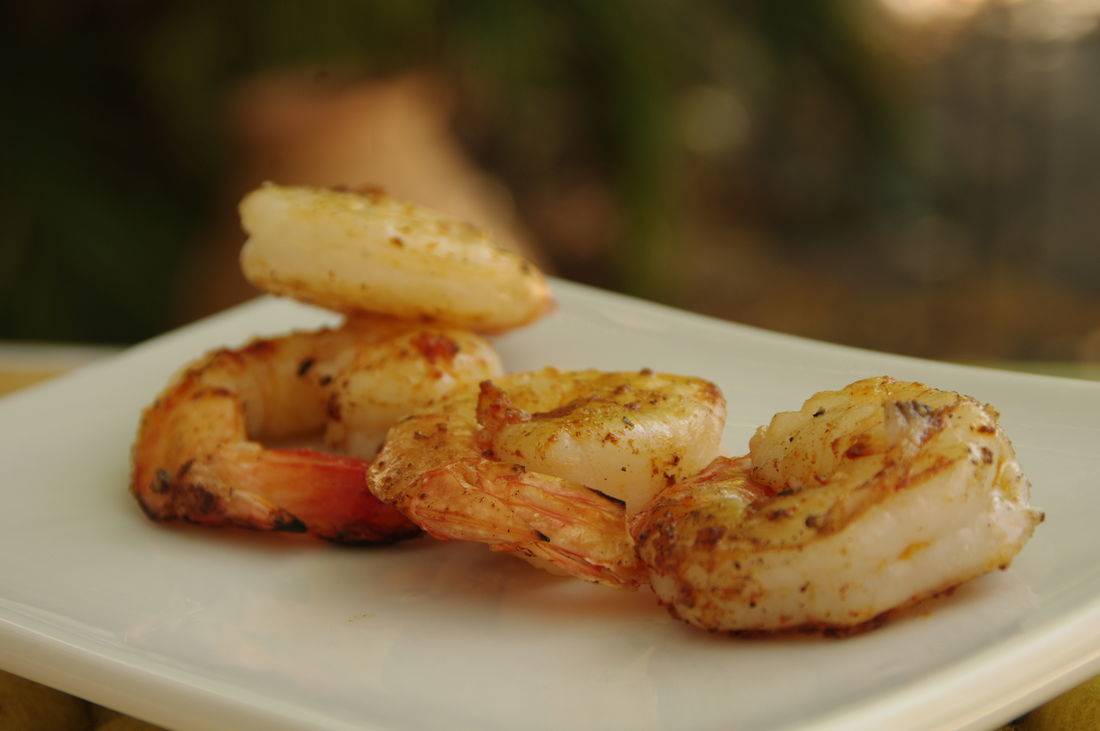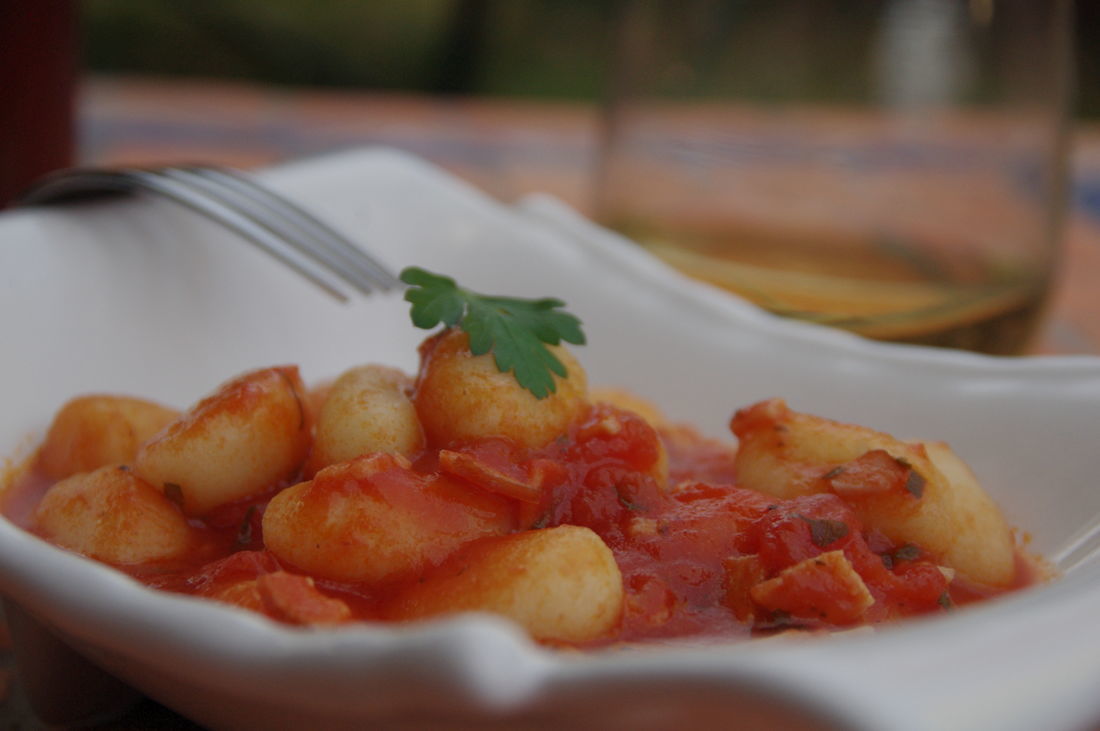 The recording of the music was an experience in itself. In May 2006, with a deposit of $500, I booked a couple of days at Studio 52, a well known recording Studio in Collingwood, an inner-city suburb of Melbourne.
Not long into the first session (18th June) I noticed that I wasn't feeling very well. I had basically put down the beginnings of the 11 tracks that were to be part of the accompanying music CD. I spent the remaining part of the first session on the couch in the mixing booth, in and out of consciousness, with the engineer trying to relay to me what I wanted from the mixes.
I had pneumonia. I didn't know it at the time. When I went to my doctor a couple of days later, ambulance and straight to hospital. Sick for 2 weeks!
I was never able to complete the recording and when Mark, my publisher, asked for the finished master soon after, because the book was going to print overseas, I had to give him what I had. I was a little disappointed in the final piece of the puzzle, yet I was still able to present my original music for the books eventual release.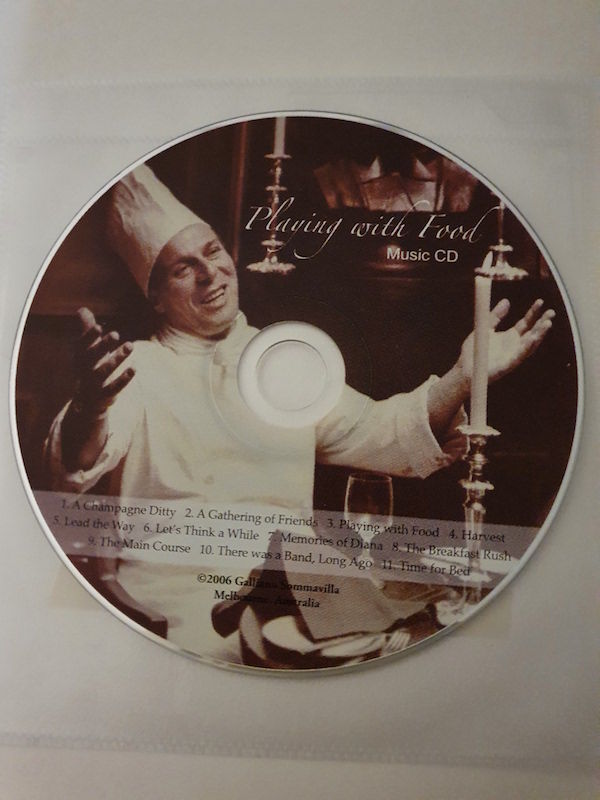 Mark Zocchi signed off on the book 9 August 2006.
A few weeks had passed. I get a call from Mark (October 13) telling me that the book had been printed and that he had a couple of copies to show me. I immediately made my way to his office. When he handed me a copy, I think I just stood there motionless, emotional for a while. We were both surprised by how beautiful and unique the book had turned out.
That night I made my way to my parents house. I don't think my Father had fully believed that what I set out to do I had achieved. My Mother, Father and myself sat at the dinner table. I handed the book to dad. He looked at it, felt it, went through a few of the pages, saw his face plastered on the front cover, mums artwork scattered throughout, my music CD at the front. "Very Good Job" said he. That was enough for me to realise that I had done something pretty cool. There was no real emotion in his demeanour, there was no real emotion in mine, that's how it sort of was between us, but deep down we both understood the true validity of the book and its contents. That was enough for me!.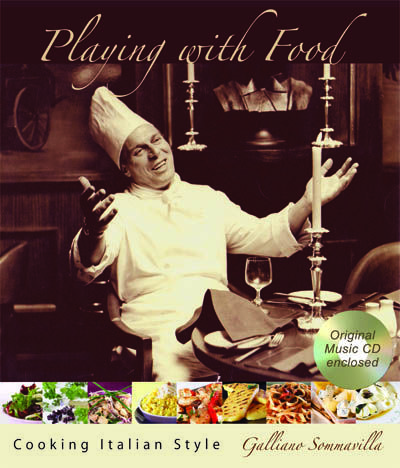 Now it was time for the book launch. Mark Zocchi was an expert in organising book launches as he had done many in the past with regards to his published authors.
We settled on one of the venues that he had used regularly.
Brolga Publishing invites you and guests to the launch of 'Playing with Food' by Galliano Sommavilla
Date: 31st October, 2006
Venue: Feddish Restaurant & Bar, Federation Square, Melbourne
Time: 6.30-8.30pm
Finger food will be served.
There was some costs related to the book launch, finger food, for example. We had about 10 trays of food for the guests at around $50 a tray. The drinks they had to purchase themselves at the bar, there may have been a minimal hire charge for the space that evening, I don't really recall, but Mark made it clear that whatever sales were made that night, I would be receiving the majority of the funds, obviously first taking care of the expenses incurred during the launch. The books sold for $30 on the night.
There were quite a lot of people. I was excited, yet somehow exhausted at the same time. Mark made a speech first, regarding how the book came to be, how hard it is to have a book published, and nice things about me. It was a privilege to hear him speak in that way, with such fondness. We are still great friends.
It was my turn to speak next. I can tell you all now, I am no public speaker, infact I stutter a little and always terrified when speaking amongst crowds. Plus I am a big 'cry baby', of sorts, especially with regards to these types of situations. The tears started not long after commencing my speech. Somewhat touching, considering the event and the people present, but boy, bloody embarrassing!
I have mentioned Bishop Philip Huggins before. You can read more here: https://www.galliano.com.au/the_story_of_rain_in_my_bathtub_buy.html
It was then time to sit at the table and sell some books. Bishop Philip was the first to buy.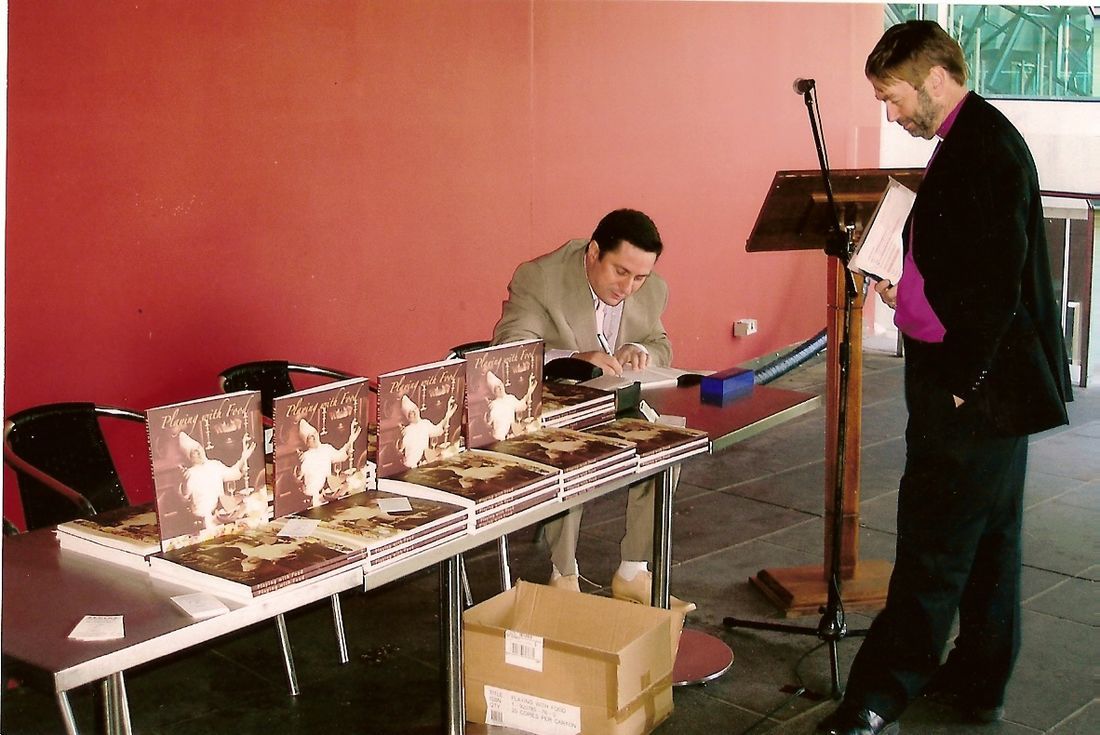 I think we sold 35-40 books, maybe a few more, which wasn't a huge number, but boy, I was thrilled. My Father bought 5.
(below) Myself and publisher Mark Zocchi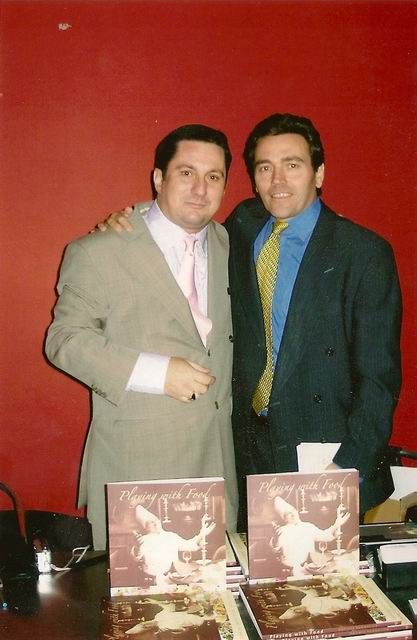 (below) My Father and I book signing.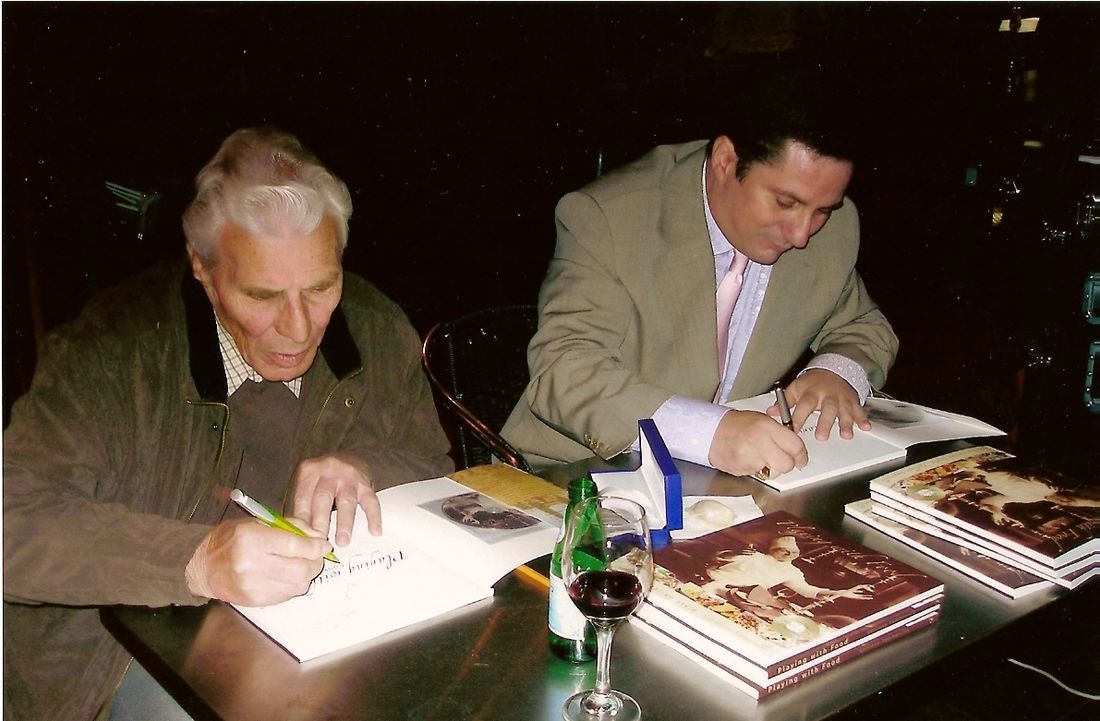 (below) Mum and Dad with my Father recreating the pose from the cookbook.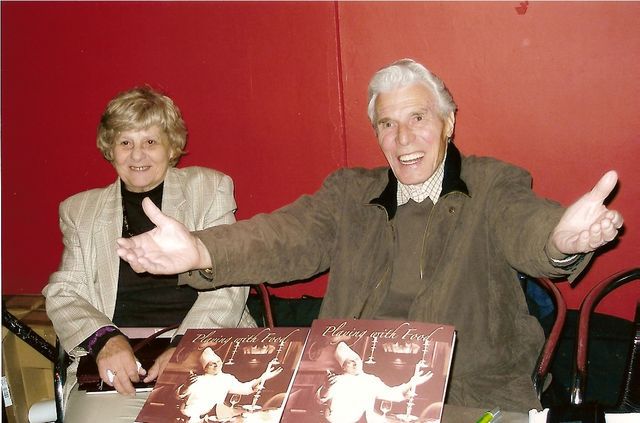 (below) Mum and Dad. (Mum holding the book upside down!)
My Father had relayed to me that night that his brother had called him from Italy to wish me great success for the book launch. Next day my Father sadly informed me that his brother had passed away later that evening.
Sometimes when it rains, it pours!
In February of 2007 I received a letter from Werner Michaelsen.
".....Dear Galliano
Normally I would address you as Mr. Sommavilla, but since you were introduced to me as Galliano, I will speak to you in that name.....From my daughter Vivian I heard that you had published a cookbook, in which you gave special mention to my departed son Steven. For this I thank you sincerely - thanks to you his name will be remembered for some time to come...I also would like to commend you on the interesting and easy to read introduction, in which you honour your parents, so devotedly.......... The presentation is pleasant and the recipes are easy to follow......Should we ever meet again, I would like you to autograph your book, of which I have purchased a copy....
....I have looked only at the first few pages and was at a loss, as to how many anchovies I should use for your Chicken Liver Crostini, as this item is missing in the list of ingredients. I hope you will forgive me for mentioning this to you.
....This week, on the 13th, it will be three years that Steven is not with me anymore, and I thank you once again that you made his name live on in your mentioning him in your book
Gratefully yours
Werner Michaelsen
A year after this letter, I attended the funeral of his daughter Vivian who, like her brother, had succumbed to cancer, age 40.
Sometimes when it rains, it pours!
I have always believed in gratitude, humility, life lesson learnt from home. Gratitude for being alive, gratitude for particular possessions, gratitude for particular achievements, for family and friends. The humility to do your best.
I am very grateful for the opportunity by Mark Zocchi to have had my cookbook published. He saw and felt that I had the vision and passion and skill to make this happen. Sometimes I tripped, I always trip, something in my DNA, but from a long time ago I learnt to always do your best and to get back up on your feet again, regardless. Its not easy sometimes, to maintain focus, energy, will, endeavour, integrity all at the same time.
This book meant a lot to me. I truly believe that it meant a lot to my parents as well.
2000 books were pressed. I had maybe 10 in my possession.
I had asked Mark, at this stage with regards to publicity, now that the book was in the stores. He explained to me that he was a publisher and not a publicist and that it was up to the author to manage any publicity regarding publication. Obviously he would assist as much as he could, but the onus was on me to promote my newly published book and music cd.
I immediately started my quest in finding ways to publicise my newly published cookbook. I had done something similar with regards to my debut music Cd in 1996, but not with regards to books. I really didn't know where to start. I just started sending out email (the internet was gaining momentum), after email, after email and writing letter, after letter........ after letter to various organisations that I thought may be interested.
Sometimes I would personally deliver information, to the Melbourne newspapers, radio stations and the like.
Nothing happened for weeks on end, months on end, I'd put the line out but the fish weren't biting, what do you have to do ?
As always......effort, persistence, effort, persistence....effort persistence!!!!
Then slowly.......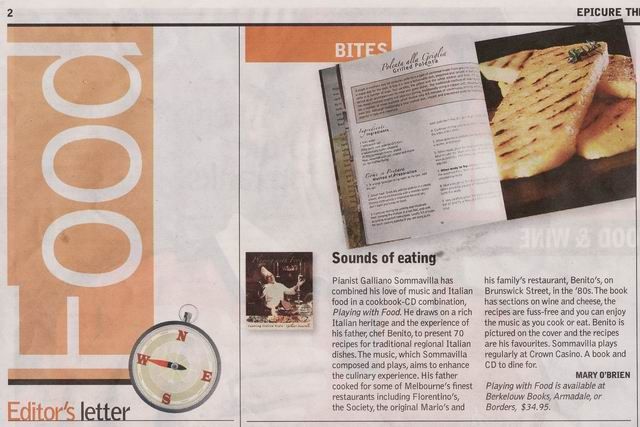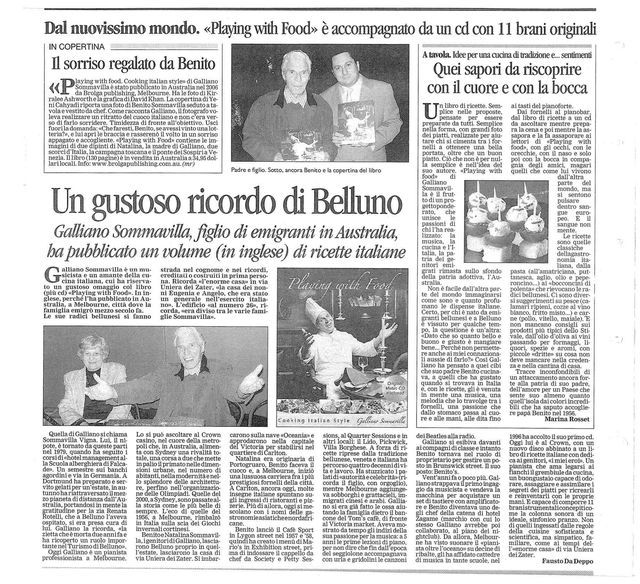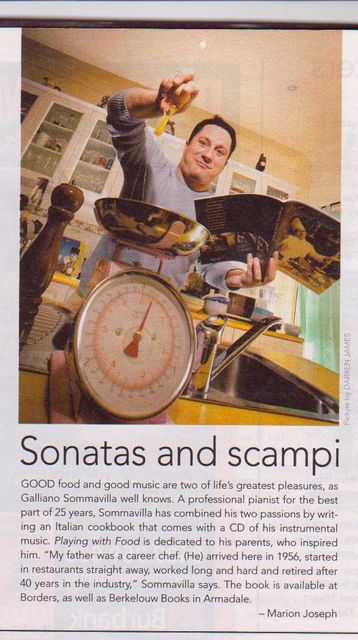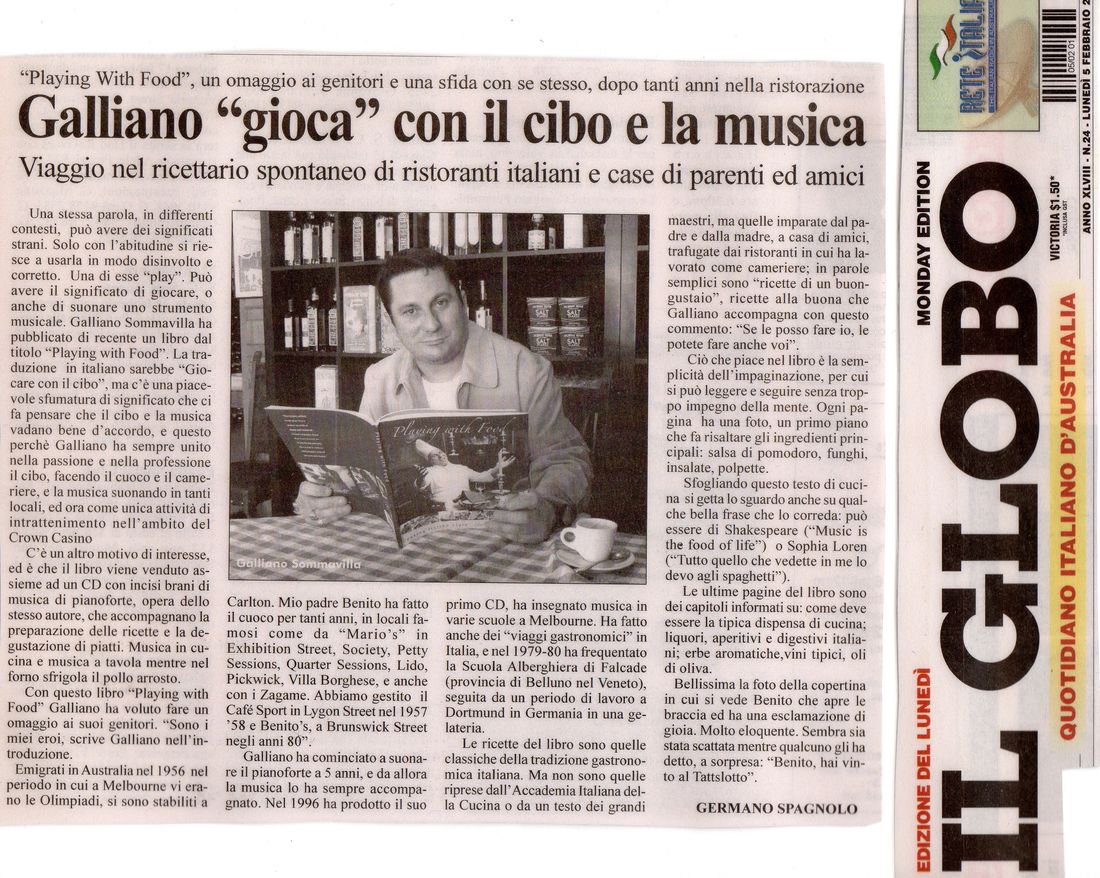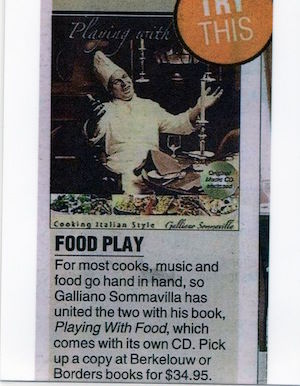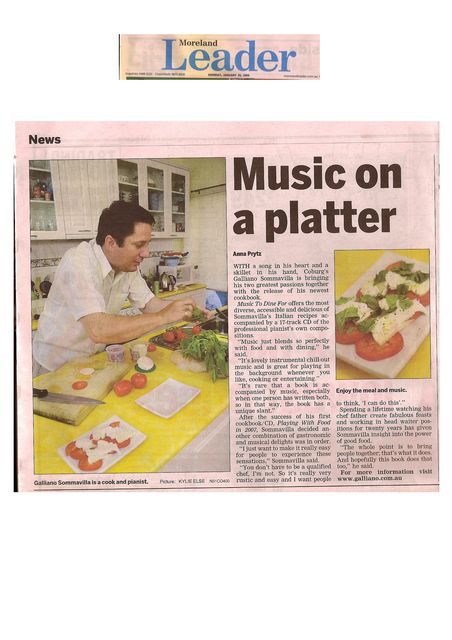 and then....in 2008, another wonderful opportunity, another cookbook...... with more original music, once again published by Mark Zocchi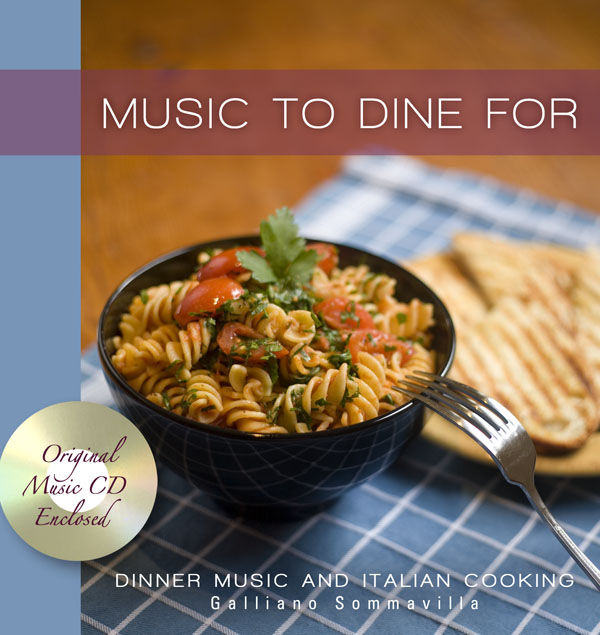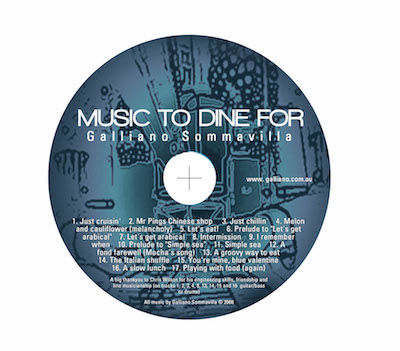 The music for 'Music to Dine For' was recorded at the studio of Chris 'Darkie' Wilson, with Chris contributing his beautiful guitar and bass playing as well.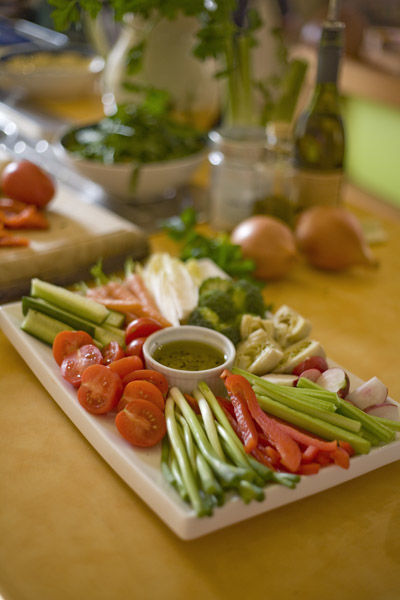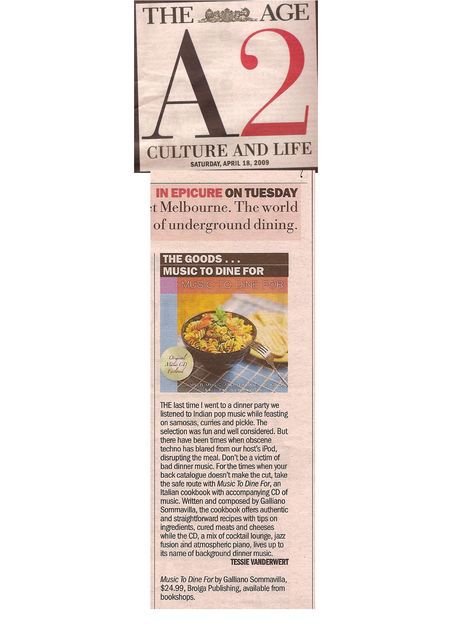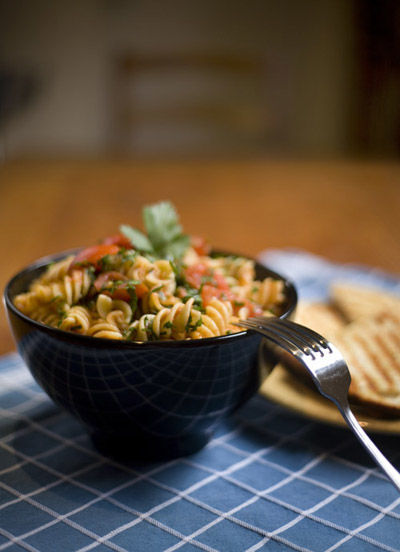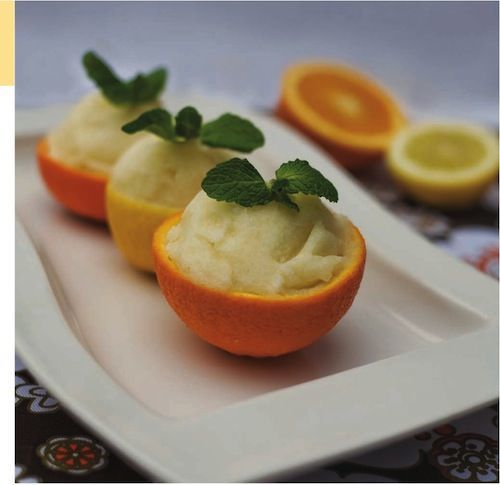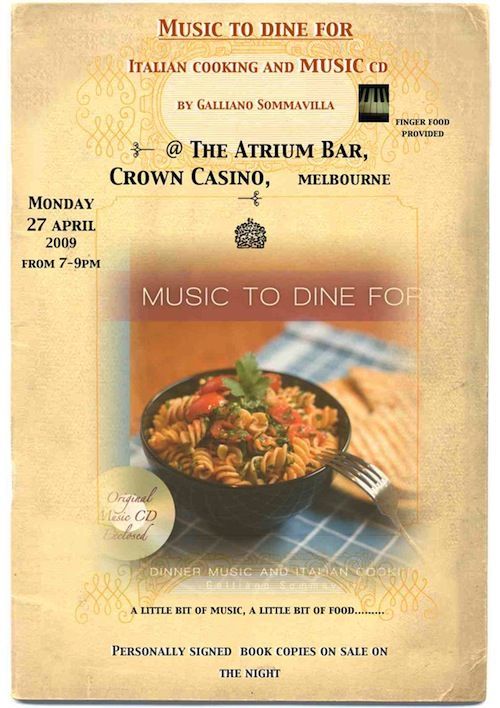 Both books are now sold out. I think Mark and I were always hoping or planning for a reprint of either one of the cookbooks, somewhere along the way, but hopefully I will be able to add an e-book link (digital download) for purchase here of 'Playing with Food' on this website soon.
This is my Story.
If you made it this far, thanks so much for reading.
Galliano
*** In late 2009, I was contacted by Seven Network (Operations) Limited to inform me that Maryanne (my partner, now wife) and I had been chosen as the Victorian candidates for the new upcoming reality food cooking show 'My Kitchen Rules'. I must of applied somewhere along the lines, for whatever reason, thinking maybe this could be something interesting and different, even though I absolutely hate being in photographs and this would of meant the I would be appearing on television!!!
Also considering the publication of both cookbooks earlier, although both sold out at the time, meant that maybe a reprint of either book would of been on the cards.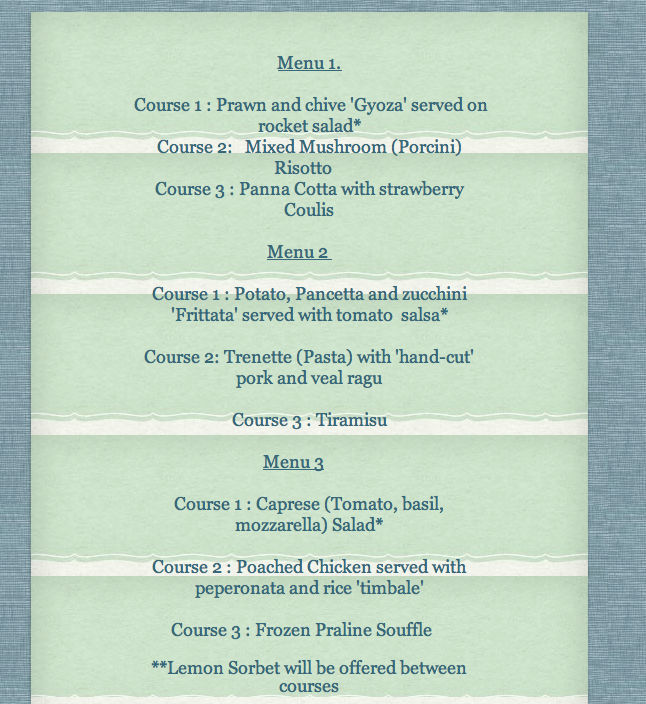 .......hello Natalie.....I hope this is what you are after...these are typical of what we offer when our friends come over...nothing fancy...just wholesome, tasty food....the mood and ambient of our dinner parties is just friendly, welcoming.....we lead a very humbled, working class existence, our dinner parties reflect this...some of our friends are musicians so sometimes there may be impromptu performances, including myself (on piano)!....
...we have a combined lounge /kitchen...approx 10m x 5m......our dining table solid wood with 2 pews, seats 10-12....best wishes ....Galliano Sommavilla
One of the producers had already been over to the home a month earlier filming us cooking a dish or two, talking to us about the concept of the upcoming show, and wanting us to explain, on camera, what approach we would take with our particular dinner party including me playing the piano in between courses!!
Much correspondence followed, including sending through the full layout of our home, I would assume for broadcasting purposes, they wanted a full layout of the home, including kitchen, dining, entertaining, bedrooms(?!!) and any other entertaining areas.
.......Hello Jane....as requested...kind regards
Galliano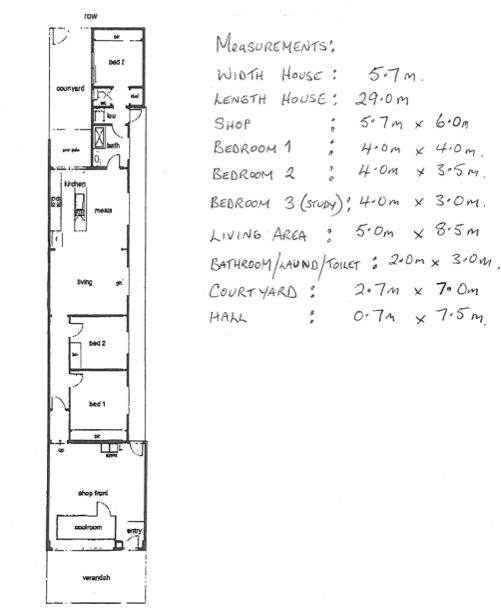 More calls, more correspondence including us sending through 'release forms', including one from our home insurance policy.
....Hello Jane and thank you for your time. I have given all the release from to my partner Maryanne to complete, I think she has already sent them to Natalie, this is the other bits of information that were requested, we are currently in the process of organising the police checks but they will obviously take a little more time, I hope this is ok
regards
Galliano Sommavilla
This is where it sort of turns somewhat pear shaped and strange. In hindsight I am sort of glad it did.
After the initial video of us filmed by the network, cooking a couple of dishes and talking about the food, etc, and all the follow up release forms, police checks, insurance checks, home layout, etc, the main producer arrived at our home, looks around and decides..."the space is not big enough".....
What the??
During the course of conversations after that, the studio had wanted to know if we could arrange for another location.
What the???
At first we obliged by trying to come up with other locations for the shoot, one suggestion was my sister's house in BellBrae, nears Bells Beach, the surf coast of Victoria. The property on 7 acres, plenty of room, large dining and entertaining areas, plenty of parking facilities, especially for the broadcast vehicles. Lovely part of the world!
I even had the absurd though of contacting my manager at Crown Casino, where I had already been performing (solo piano) for the last 10 years, with regards to using one of the kitchen spaces there.
In the end, I decided, "this is all a bit too hard", and even in the event we found a suitable location for the shoot, it wouldn't be called 'My Kitchen Rules', but instead 'Someone else's Kitchen Rules!
The whole premise of us cooking in someone else's kitchen didn't sit well, wasn't what we had originally signed up for, it was to be a series of dinners at our home, using our cutlery, our plates, our environment, not somebody else's.
It was then that we decided to withdraw our names from the show.
I don't really remember much of the conversations after this, and I must of deleted the correspondence between us and the producers during this stage, but I am sure they were not impressed. I was actually quite relieved.
Looking back now, I am so glad that it didn't eventuate. I probably wouldn't have enjoyed myself being filmed like that anyway.
Later on, not so much season 1, but on later seasons for sure, and more predominantly towards then of the production run, the show relied, I believe, heavily on character assassination, unfavourable edits, instead of 'for the love of food, friends and entertaining'.
This is my Story
Thanks for reading.
Galliano