Welcome to the story of
'Rain In my bathtub'
My debut album 'Rain in my Bathtub' was recorded in late 1995 at the esteemed and revered Metropolis Studio in South Melbourne.
Myself on piano, David Rosa on bass, Steven (Mocha) Michaelsen on drums, Lance O'Reilly on violin, Peter O'Reilly on cello and Bernie Brysha on Double Bass.
Engineered, mixed and mastered by Tim Johnston.
Metropolis Studios originally opened in the middle 1960's under the name Armstrong's by Bill Armstrong, one of Australia's pioneers of pop and a huge supporter of Aussie Rock. This studio became synonymous with quality recordings.
A couple of name changes over the years, in the 1980's renamed again as Metropolis Studios and now run by renowned engineer Ernie Rose, this once (very) famous recording studio near the centre of Melbourne hosted the biggest and very best bands at the time, both Australian and International, producing some of Australia's most iconic hits, albums and soundtracks (Mad Max).
Ours was not one of them!
Allow me to take you back a couple of years before the recording and recount how all this came to be.
Let me be clear, I am recounting this story over 25 years after the event and I must admit that some of my memories of events that transpired are clouded in... we'll just say they're clouded! Unfortunately there will be things that I have forgotten regarding this time of my life, people, places, events but hopefully by writing this, some things may see the light of day again.
By 1995 I had already been performing professionally, either solo piano or band, for a dozen years or so. My first real professional gigs (solo piano) started for me at the Croxton Park Hotel, Thornbury, an inner suburb of Melbourne, around 1983. My Mother bought my first piano in 1968, an American upright pianola, from Suttons, so you could say that I was dabbling in music already much earlier.
Below, 1967, from left, my Uncle Dante, My Mother Natalina, My Father Benito, my Auntie Jenny, me, age 4 (I wasn't that tall, I was standing on a chair!)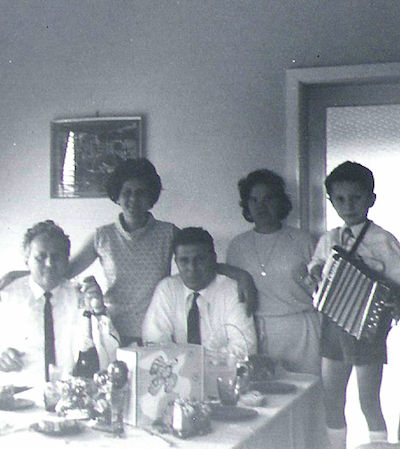 I probably need to start in Williamstown, a suburb south-west of Melbourne (over the Westgate), a friend by the name of Steven Heath who owned a successful hair salon, and also a musician of calibre, and Bishop Philip Huggins.
At one stage, Steven introduced me to Father Philip (as he was known then) who loved to have musicians perform in his beautiful bluestone church, Holy Trinity Anglican Church, opposite the bay in Williamstown.
Steven, at the time, was also good friends with Mario De Pasquale, one of the co-owners of Melbourne's legendary, long-running Mario's Cafe in Brunswick Street, Fitzroy and The Continental Cafe (1993-2001) in Greville Street, Prahran.
In early 1993, Steven invited me to go and visit The Continental as it was already becoming a famous, place to be seen eatery, eventually becoming the iconic music and food venue lovingly referred to as 'The Conti'.
There was a round table at the back (Table 11), for 5 people, there were 5 of us. We chatted, ate some food, and then drank. Boy, did we drink! Some sort of cocktail, Steven can probably remember the name of it, until Mario told us best if we stopped. We were in his establishment and we were ever so slightly rambunctious. We had probably 6 or 7 cocktails each. At this stage, the silly drunken stage, I just came out and asked Mario De Pasquale for a job as a waiter. It was probably the wrong time. It was absolutely the wrong time! I don't think Mario was impressed. In hindsight, disrespectful on my behalf.
I had dabbled in the hopitality trade though as my father was a respected chef in Melbourne for over 4 decades and that I had also worked at the family restaurant, 'Benito's' in 1981-82. As it happens, the restaurant was just up from Mario's Cafe, on the other side of the road, Brunswick Street, Fitzroy.
For whatever reason, as fate would have it, and a big lot of gratitude to Mario Maccarone, the other co-owner of Mario's and The Continental, I did eventually get a job at the Continental as a waiter. I was there 1993-1997. It was there whilst doing an afternoon shift that I also got the idea of writing my cookbook (which got published in 2006 'Playing with Food'), but that is another story.
https://www.galliano.com.au/the_story_of_playing_with_food_.html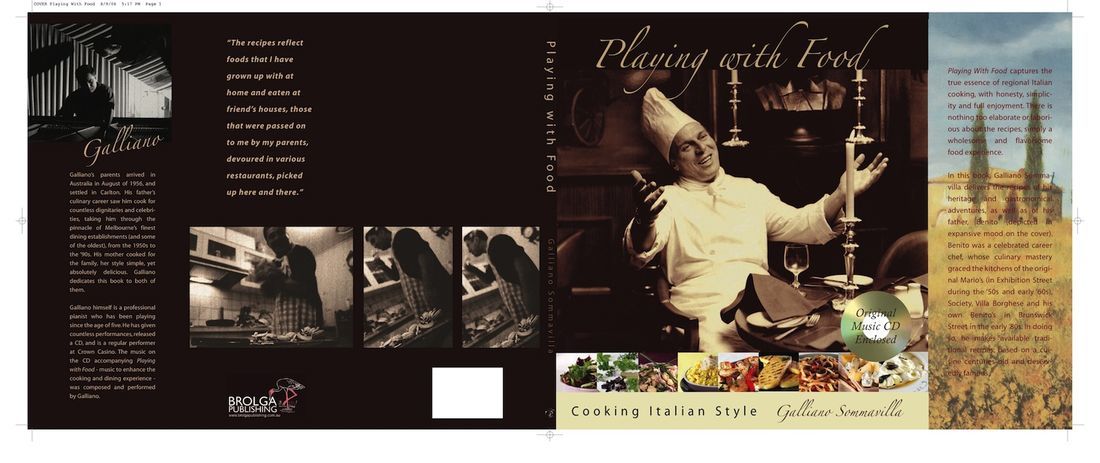 I was very fortunate also to have been offered a few gigs (upstairs) at The Conti as well, including opening for the legendary American entertainer/pianist Buddy Greco with my newly formed instrumental band 'Galliano and the Word'. What a blast! Once again, much love and gratitude to Mario Maccarone for allowing me these opportunities, also considering they were only booking the highest calibre of local, emerging, interstate and international artists. And I was only the downstairs waiter!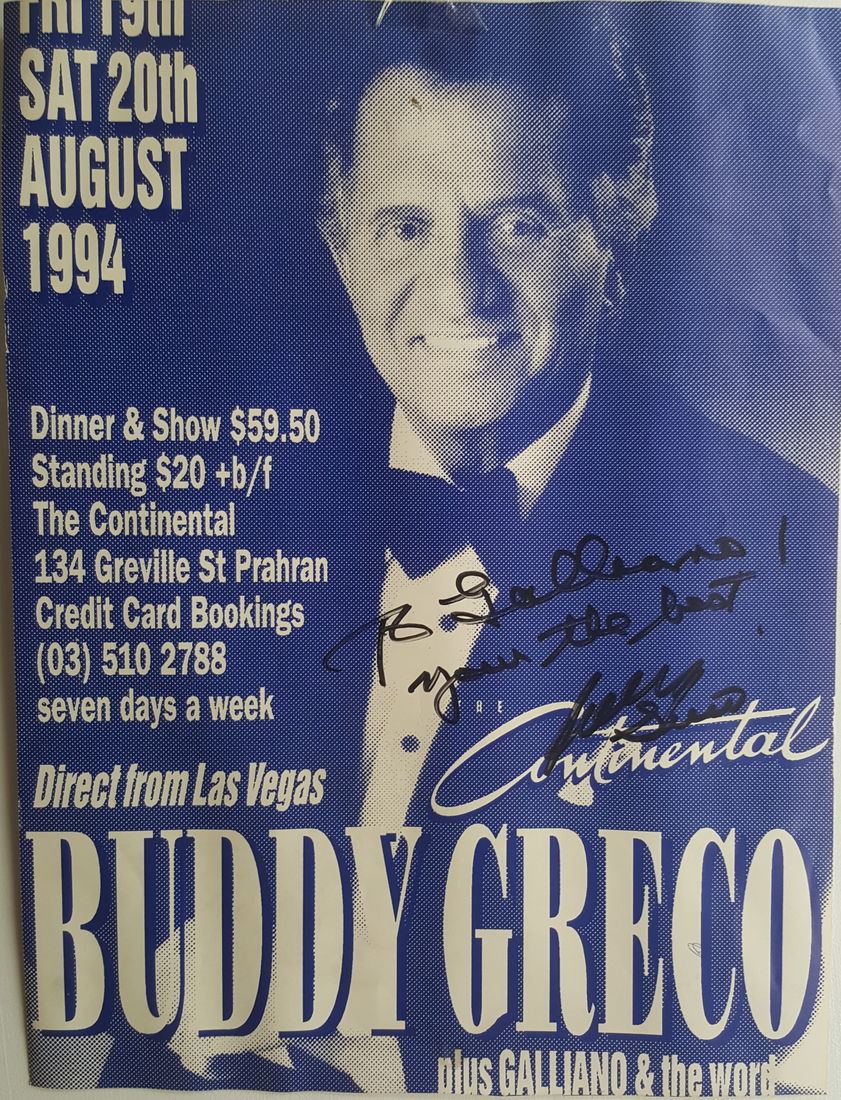 One day, probably early 1995, I was in Steven's salon getting my hair cut. I could hear Steven remark that Father Philip had come in to say hello. He walked up beside us and started chatting about life and things. I started to mention that I was thinking about doing my first original album recording with my instrumental band 'The Word', but funds were a bit tight. He asked.."how much do you need to start?".... I think I remember saying..."don't know Father...about $500.....we chatted some more and then he left.
Call it what you will, and to this day it is how I remember it, but seconds after he was leaving and I could hear him saying goodbye from behind where I was seated, both Steven and I then suddenly noticed something appearing in front of us, like from nowhere, dropping from the air. 'What's that?", I am not sure who picked it up first, myself or Steven, but it was a cheque for $500!
That was the catalyst and blessed beginnings of my musical journey for 'Rain in My Bathtub'
I would always be forever grateful.
In 1995 I was living in Collingwood, an inner city suburb of Melbourne. A house with the most wonderful garden. In the actual garden, just near one of the patio doors, was an old style, deep bathtub, piped with both running hot and cold water. Although the house did have a shower, glass walled no less, looking into and overlooking the back, lush and shadowy garden, I took many a bath outside, surrounded by nature, the beautiful fruits trees, flowers and the like. During the Winter months of that year I would be sitting in the hot (bubble) bath, with just my head sticking out of the water, the fresh and cold winters air circulating around my head.
I had started to think more intently about the recording at this stage, I was looking at various studios, whether I had enough original material, thinking about the artwork for the cover, budget costs, band rehearsals, that sort off thing.
One night, I was in the tub, when it started to rain. Rather than get out immediately, I remained in the cocoon type, hot, bubble soaked tub, and as always, my body completely submerged except for my head peering out amongst the cold, almost dark and frosty air. It then came to me.....Rain in my Bathtub!......I would call the album 'Rain in my Bathtub!
Obviously I didn't tell anyone at first, would you?!
Andrew McDonald (Andy Mac) also worked at the Continental. I don't really recall how the conversation manifested itself, but somewhere along the line he mentioned that he was a keen photographer. I told him about the album that I was planning to do, the album title and whether he would come over and take some shots of me in the bathtub.
The rest they say is history!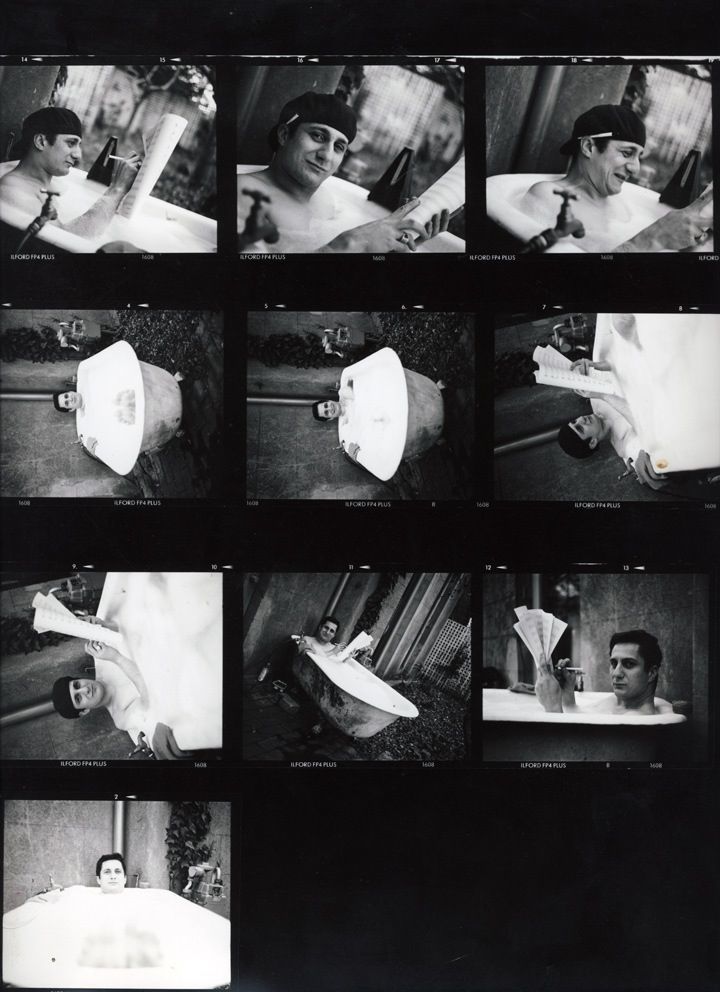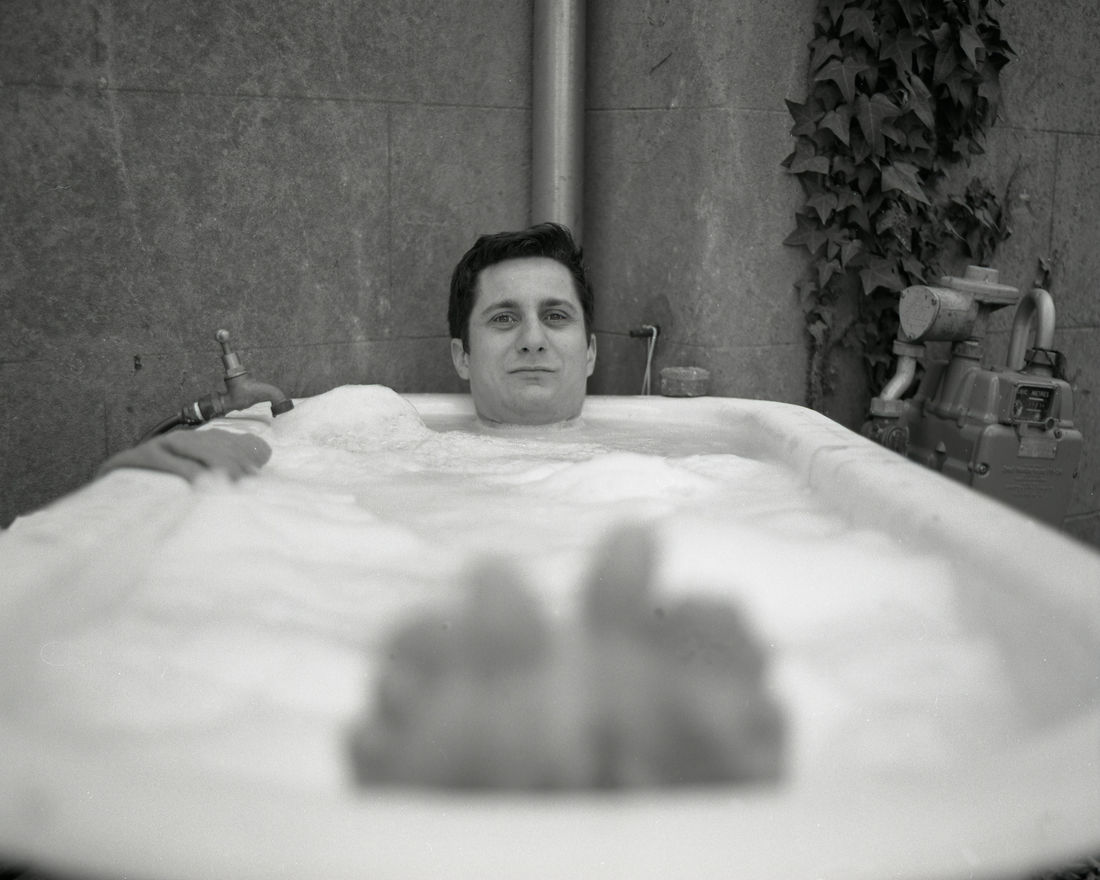 Came time for the recording. I went to Metropolis Studios on my own at first. It was a very late session, around midnight as I recall, for a good price as well. I played one original song after another for about 3-4 hours. I got a taste of what was to come. And that Steinway Grand piano, not sure whether it was an American or Hamburg built model, but for the first time in my musical life I had a close, almost spiritual connection with an instrument, it spoke to me and I did my absolute best to return the favour.
Tim Johnston, who turned out to be the engineer on the album was also the engineer here.
I then booked a couple of full day sessions for the following week.
Steven, my drummer didn't own a car! His drum kit would make even Keith Moon proud. Double bass drum, an amazing array of cymbals, it was probably a 20 or more piece kit, excluding clamps, cages, etc. I asked him how he got around with regards to gigs, he said "Taxi's"!
I had a station wagon at the time, a lovely two tone (blue/white roof) HR Holden. The kit just fit.
In the end we recorded 17 tracks in 2 sessions. Most of the budget went on loading in, setting up and dismantling the drum kit, leaving us with a small window of opportunity to record. It was bit frustrating for the others. We were on the clock the moment we started to load the instruments in.
Day 2, I made sure the other musicians arrived 2-3 hours after we did!
The budget was for only two sessions.
We recorded as a band and the majority of the tracks were produced after one, maybe two takes. There were very little overdubs, simply live recording. Steven wanted to use percussion as well. I told him he was dreaming. By the time we set the percussion up as well, the session would of been over!
Lance had mentioned to me that his brother Peter was visiting Melbourne. Peter was a well known cellist working around the world in various ensembles and orchestras. I asked him whether he could come and put down some cello for me on a couple of tracks. He agreed. He arrrived at the studio, asked me what I wanted, I whistled a couple of lines that I felt would be appropriate, he played them immediately, recorded it, then he was gone.
Same with Bernie.
The music we produced during those sessions, fresh, raw, honest and invigorating.
I was so proud of the achievement. So proud of the band. So proud of the end result even though we had a very small window of opportunity to record or re-record. Bloody Drummers!
Tim Johnston, the engineer also oversaw the mastering of the final product. He was a pleasure to work with.
There was now a bigger picture appearing. All the coincidences, life choices, call them what you will, up to now had led to this. I had the master (½ inch Sony/reel-to-reel). I had the recording. Artwork complete. Pressings ordered. A sense of proud achievement. A sense of gratitude.
To be honest, I don't recall much with regards to the making of the artwork for Rain In my Bathtub, specifically
with the company I had hired to do the art work design for the cd. With regards to QED Graphic Services and Naomi Mitchell who did the graphic design, I must of found out about them via someone at work or even maybe the 'yellow pages', my memory of that is blurred, and my apologies to both the company and Naomi for not fully recognising their important input with regards to the creation of the recording.
I think I was the one that chose the colour combination of orange and black, for some reason.
I do however remember exactly where I was when Andrew showed me the bathtub shots. I instantly knew which shot was going to be on the front cover off the cd.
I met Kim Westcott whilst working at the 'The Conti'. She was a friend of Mario Maccarone. At the time she was making a name for herself with her remarkable 'prints on paper'. She had previously been to New York to work as Master Printer for American Master Printmaker Garner Tullis. I had seen her work and asked whether I could use a photo of one of those prints as the back cover of the cd. She agreed.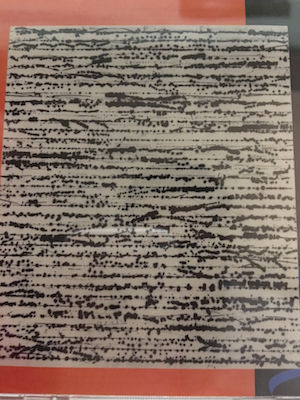 I received a letter in December 1995, after sending the Cd to Father Philip.
"....Dear Gally, it is a wonderful CD!...we were so delighted when it turned up.....What a moment Gally! All your questing and struggle, your gift, your persistent work-come together.....and it's a great cover too (thanks for the kind word)...We've missed you here this year...Goes without saying....but the life here is taking shape...in Godly ways......
As I mentioned previously, the co-owner of the Continental, Mario Maccarone was very generous in allowing me to perform in his fast becoming iconic venue. I had the fondness of memories from previous gigs there including the time Buddy Greco and I shared the same piano onstage. It was surreal and unbelievable.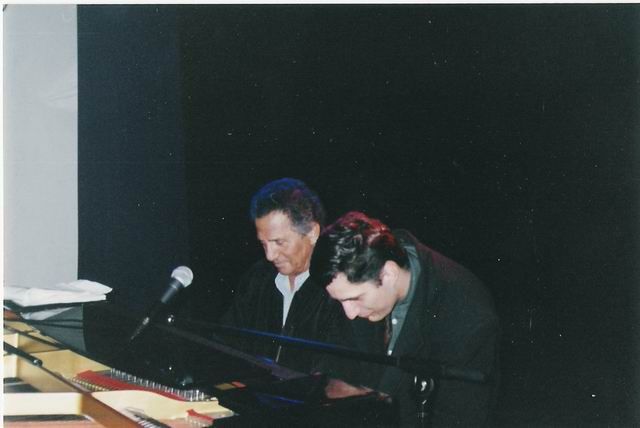 I asked whether I could launch the album there. He agreed.
The date booked. 21 February 1996.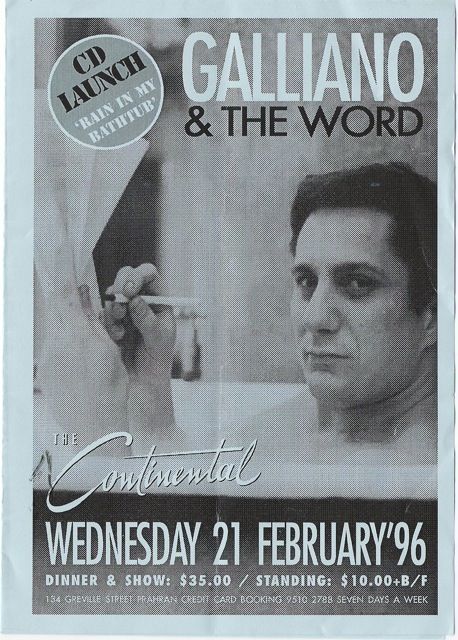 The photo below is myself and Steven (on our day off) pointing to our launch poster on the front window of the Continental, near the entrance. Was very exciting.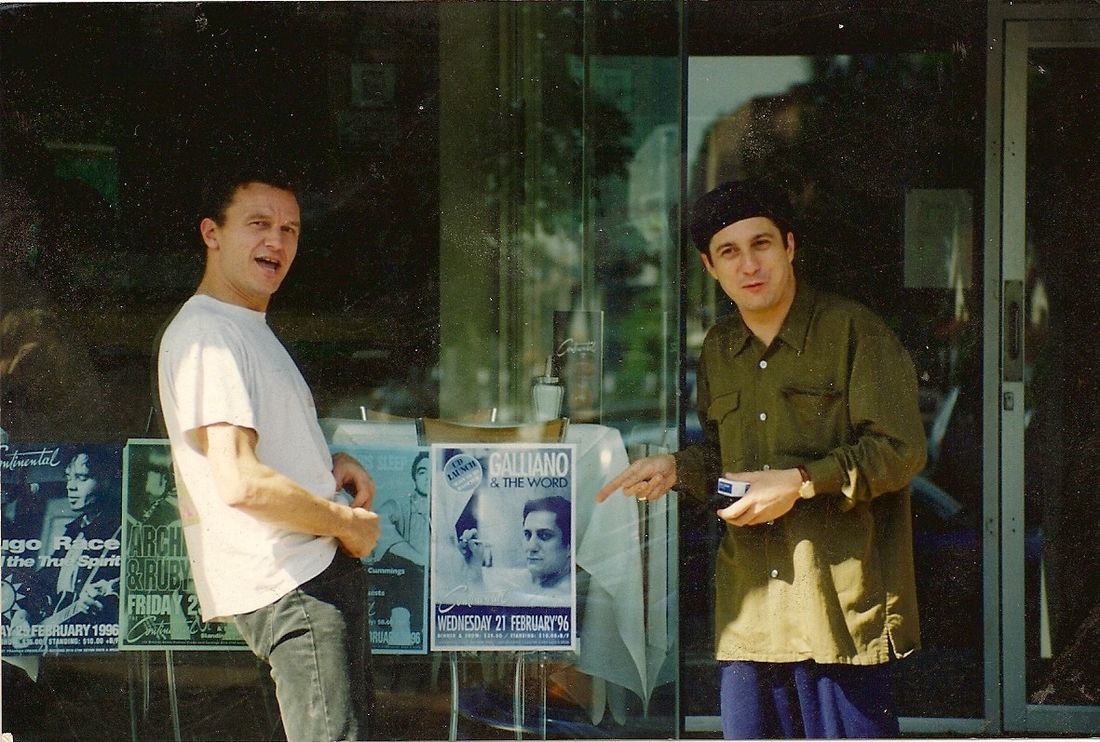 The upstairs band room held about 300 at capacity and the majority of artists who performed there would fill this easily. For us as an unknown band, it was going to be a little bit more of a struggle to get people to come and see us. Obviously because I worked in the cafe I had strong rapport with many of the clientele and also having the cd's for sale helped tremendously as well. I really didn't want low numbers and wanted to make sure that Mario Maccarone had made the right decision in having my band perform. But as always, I was up for the challenge.
The fact that the Mario's allowed me to sell my Cd at the front counter of the downstairs cafe, I don't think many artists had that privilege. I thank them both for that.
I think on the night we had around 220. We were all thrilled.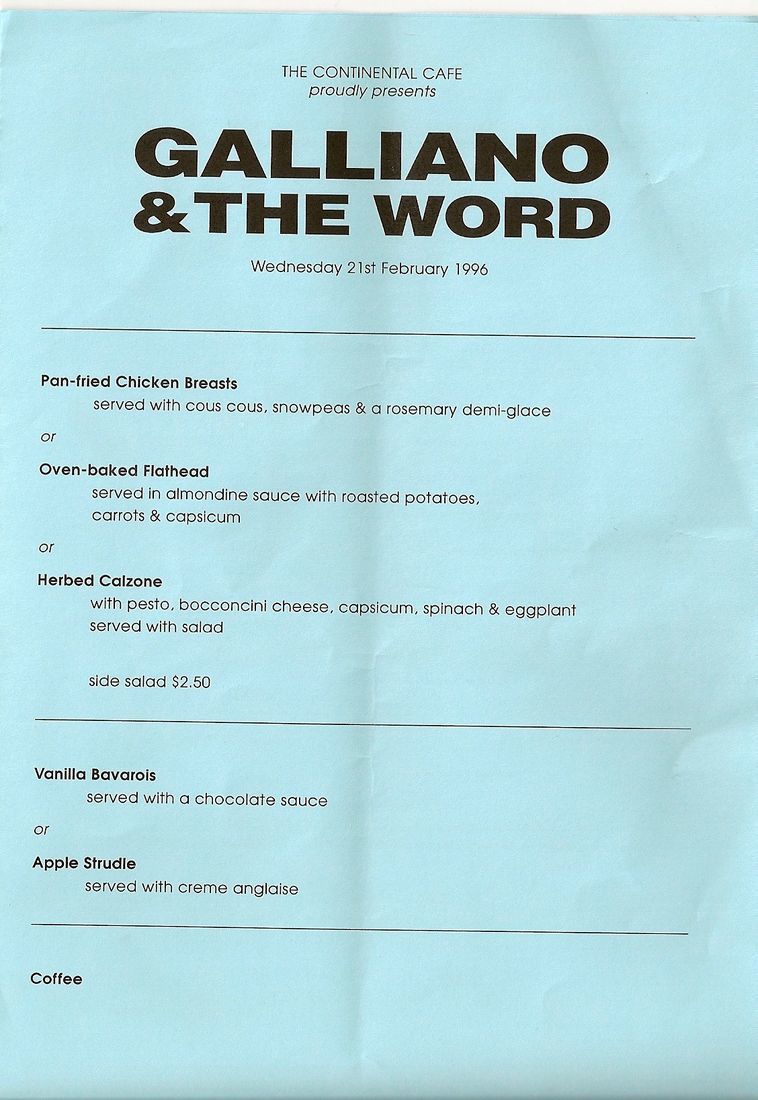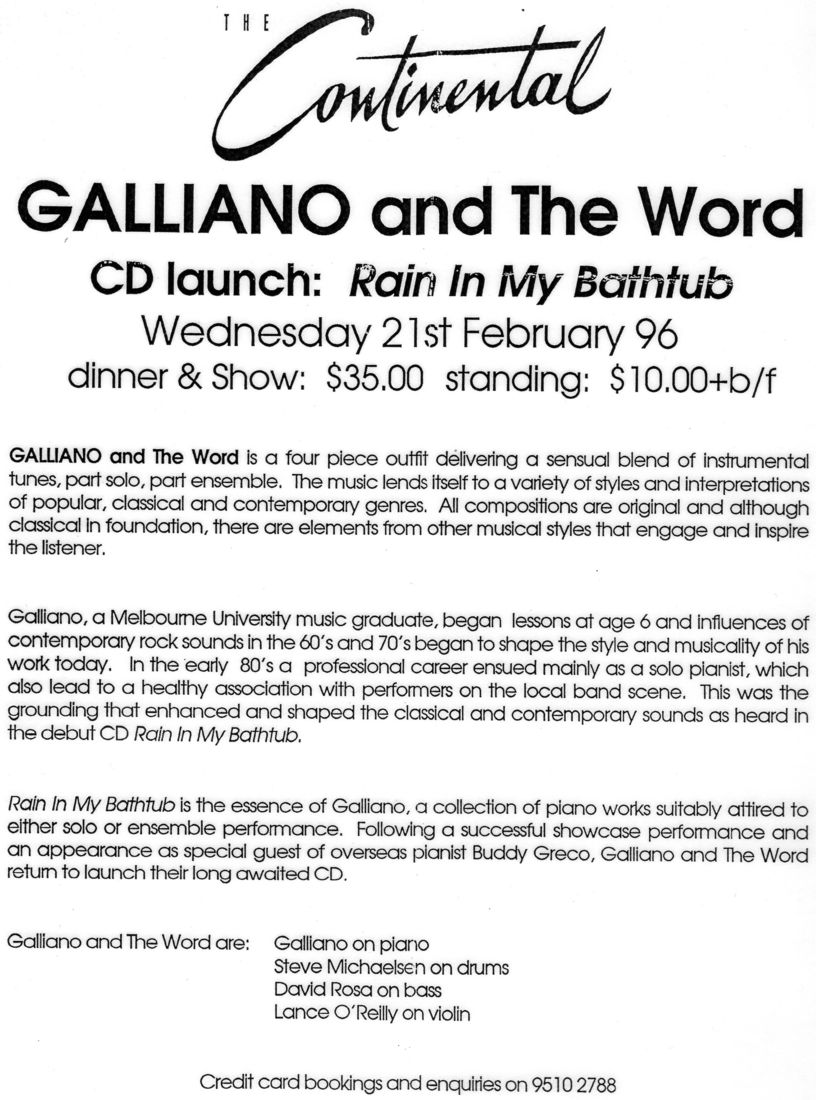 I met Steven (Michaelsen) at The Conti. He was the one of the chefs. It took a while for us to realise we shared the same passion. We became friends. He became the drummer for Galliano and the Word. He succumbed to cancer in 2004. I miss him. Thank you for your beautiful playing.
I met Lance O'Reilly in 1990. We were both mature age students doing the same music education degree at Melbourne Uni. We became friends. He graduated. I dropped out! He became the violinist for Galliano and the Word. Tragically killed whilst riding his motorbike in 2015. I miss him. Thank you for your beautiful playing.
This is my story.
If you made it this far, thanks so much for reading. More below.
Galliano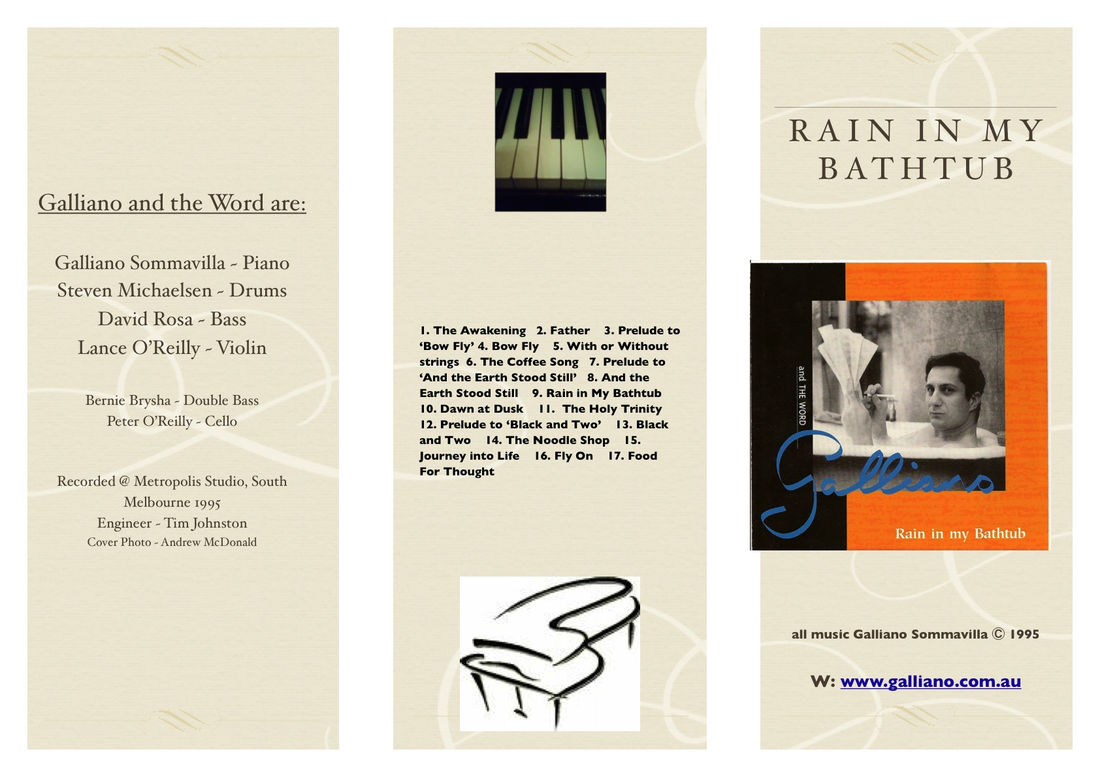 .....Today, we're taking a look at Galliano's debut album – Rain in my Bathtub was originally recorded n 1995 and released in 1996. Releasing the album at the well-renowned venue "The Continental Cafe" in Melbourne, Galliano surrounded himself with other talented musicians for his first work – Steven Michaelsen (drums), Lance O'Reilly (violin), Peter O'Reilly (cello), David Rosa (bass), and Bernie Brysha (double bass). The majority of these songs 17 were recorded in only one or two takes, creating an electric live feel that only adds to the impressive nature of these incredible songs......
HERE'S WHAT WE DUG MOST…

Galliano's unparalleled piano skills are on display from the very first measures of this album. It opens with The Awakening, aptly titled for its dynamic and dramatic flair. The contrast of the bright, intricate keys against the warm depth of the cello is inviting and captivating. The track rises and falls, dancing between melancholy and optimistic melodic sections. The percussion – a complete drum kit in full swing from the very beginning – adds a great level of urgency and movement to the piece........
The Ark of Music
read the full review HERE
1. The Awakening
piano: Galliano Sommavilla. drums: Steven Michealsen. bass: David Rosa. Cello: Peter O'Reilly
2. Father
piano: Galliano Sommavilla. violin: Lance O'Reilly
3. Prelude to 'Bow Fly
piano: Galliano Sommavilla. double bass: Bernie Brysha
4. Bow Fly
piano: Galliano Sommavilla
5. With or Without Strings
piano: Galliano Sommavilla. drums: Steven Michaelsen. bass: David Rosa. Cello: Peter O'Reilly. violin: Lance O'Reilly
6. Cappuccino, Caffe Latte, Short Macchiato (The Coffee Song)
piano: Galliano Sommavilla. bass: David Rosa. drums: Steven Michaelsen.
7. Prelude to 'And the Earth Stood Still'
piano: Galliano Sommavilla. double bass: Bernie Brysha
8. And the Earth Stood Still
piano: Galliano Sommavilla
9. Rain in my Bathtub
piano: Galliano Sommavilla
10. Dawn at Dusk
piano: Galliano Sommavilla. bass: David Rosa. drums: Steven Michaelsen
11. The Holy Trinity
piano: Galliano Sommavilla. bass: David Rosa. drums: Steven Michaelsen. violin: Lance O'Reilly
12. Prelude to 'Black and Two'
piano: Galliano Sommavilla. double bass: Bernie Brysha
13. Black and Two
piano: Galliano Sommavilla. violin: Lance O'Reilly
14. The Noodle Shop
piano: Galliano Sommavilla
15. Journey into Life
piano: Galliano Sommavilla. bass: David Rosa. drums: Steven Michaelsen
16. Fly On
piano: Galliano Sommavilla. bass: David Rosa. drums: Steven Michaelsen
17. Food For Thought
piano: Galliano Sommavilla. bass: David Rosa. drums: Steven Michaelsen
"Whatever you can do, or dream you can, bring it.....Boldness has genius, power and magic in it....begin it now"
- Johann Wolfgang von Goethe
****UPDATE
I sent Steven Heath a link to this webpage. I am certain it brought back memories for him. He also mentioned......."by the way...we had 13 'Frankie Sinatra's' (cocktail) each that day and 5 bottles of Champagne!!!