Welcome to 365 songs in 365 days.
An original project started on 6 May 2013 and finishing on 5 May 2014, culminating in the creation of 365 original songs, 365 songs in 365 days!
The idea for this, let's say, ridiculous and mammoth task started in April 2013 when I received an subscription email from 'Dotted Music', an online digital service and marketing agency for musicians.
The content relayed the story of St. Louis piano player Richard Carr, specifically his project 'Year of Music'. Richard had actually accomplished this Year of Music, twice, essentially putting out a new piece of music, daily. Amazing!
The content of the email went on to say that....."if you want to be noticed, create something remarkable".
I thought to myself......Mmmmm...maybe it's something I can attempt. To be honest it wasn't really about having to create a song a day for a year but more so being able to continue the challenge and persevere every day for the duration. I have never been very good at completing tasks I had begun, so this could become the catalyst for change. It was all about the effort, the daily effort and struggles that would hopefully and eventually culminate into a musical juggernaut.
The project began in earnest on May 6, 2013. I was excited and determined. Rather than just solo piano as I believe the majority of Richards Carr's output revolved, I would attempt multi track instrumental pieces. Because my mixing skills are underdeveloped and basic, these were already the beginnings of the challenges that lay ahead.
The first 50-100 were relatively easy. The next 265 were a different story!
I would post each one daily to my Soundcloud page.
Many private, mental and physical issues during the course of the year made the project even more daunting, much more daunting, and my engineering/mixing skills didn't improve either! Coming up with a new creation every day wasn't the problem, it was everything else around, the daily life's issues that made the project so insurmountable at times.
But once I was on my way I was determined and curious to see how far I could reach.
Looking back now I am immensely proud of my achievement and quality of the works that came to be. Let's do the math slightly. 365 songs, an average of 4 minutes, about 24-25 hours of music was created and produced.
I have endeavoured to remix some of the songs since my mixing skills have increased somewhat in the 7 years since! I have recently learnt how to master my own recordings and I must say, that is a completely different kettle of fish.
Many of these musical works now make up much of the catalogue of my licensing business (MusicbyGallianoLicensing) I intend to launch in the latter part of this year, 2021.
Much has been said of this project.
This is my Story.
If you made it this far, thanks for reading.
Galliano
--------------------
...The very thought of creating a song for every single day of the year is daunting, indeed. Those that experience writer's block would never imagine taking on such an expansive task.......
- Dan Macintosh
...…….Many of us rarely accomplish everything we want to get done in any given year. Yet Galliano Sommavilla has given us a healthy taste of the music he's created in just one year. That ambition alone deserves big kudos. And the fact that it's so good, only makes us respect him all the more. Perhaps we can call this Sommavilla's year of living musically……… Dan Macintosh Reviewer USA
....... I love the ethereal & otherworldly atmosphere he creates at the outset of "Ponder This" (song/day 297) and the way this whole song evolves & expands so expressively, adding in subtle transitions and elements along the way that all get the space they need in the production & structure to complement the design. The bass-lines in particular, keep this cut movin' & groovin' with slow-burning rhythm…the melodic synth elements & vocal samples are straight-up magnificent and push the whole song to the next-level.......
Sleeping Bag Studios
watch the youtube video for 'Ponder This' HERE
......Galliano Sommavilla's new volume marks a pivotal achievement as something that is part of a musical journey from a year long task of creating new songs each day. Though daunting at times, the result is a very engaging, diverse, and fluid mix of world jazz, fusion, electronica, new age, and down-tempo/chill-out compositions that never go out of style or fade into oblivion. Galliano's new recording could not have been made possible without Gary Ritchie on guitars, as well as Barry De Marco. 365 Vol. 9 Guitar and Keys is another keeper in the world of contemporary instrumental and down-tempo.......
Album review (Matthew Forss-USA)
....As I've probably said somewhere in the past along the way in reviewing Galliano Sommavilla's music, you wouldn't take on a project that would demand a brand-new song from ya for 365 days straight without having some sort of an idea of how to navigate the ol' instruments & studio boards folks. Rest assured, the man's a pro when it comes to the quality of sound and you'll always get his best in that respect, and the different concepts & soundscapes he creates always provide ya with something unique from what you heard the last time out with whatever it is Sommavilla has done already, or will do next.....
Sleeping bag Studios
'Coming Home'..."We always love hearing Sommavilla's work - partly on its own merits of euphony and innovation - but also for its placement in a fascinating, year-long instrumental quest."
Winner Best Song Ambient Instrumental Akademia Music Awards March 2016
....'Things To Do, Places To See' (song/day 165) sets the mind at ease with a calming, ambient landscape of sweet textures that are perfect for a lounge setting or a night at the beach.'
Winner Best Song Ambient/Jazz Akademia Music Awards September 2015


....Galliano Sommavilla's incredible musical endeavor "365 Original Songs in a Year" is a phenomenal concept and creative feat. From May 6, 2013 through May 5, 2014 the Australian pianist released one new song daily available for upload. Presently, these recordings are in the process of being remixed, remastered and cataloged into bite-sized collections. Vol. 13 Favourites is only three percent of a year's worth of music......
Album Review (Kelly O'Neil) for '365' (original song a day for a year) Vol. 13 Favourites
song/day 216...."A delicate conversation of star-washed ambient forces and intensely moving guitar stylings, Galliano Sommavilla's time-slowed instrumental is soothing yet energised."
Winner Best Song Ambient Instrumental Akademia Music Awards December 2016
....With thunderous drum beats and cymbals splashing us in to the atmospheric beginning of "Morning Doves," song/day 139, you get that instant feeling of epic majesty springing through the air surrounding you. Spread out with a mesmerizing approach to the space & pace of the composition, what's not being played is just as essential as what is – it's that extra ambience that Galliano uses so well to make each individual addition to the song generate an impact of its own..........
Sleeping Bag Studios
The Groovy Guru…"Galliano Sommavilla delivers an ethereal, tribal, atmospheric interpretation full of mystery and danger, featuring gorgeous strings and an infectious rhythm."
Winner Best Song Ambient Instrumental Akademia Music Awards February 2017
Rooftops Of The World….'This is ambient musical invention at its best, boldly abjuring the dull regime of reality to illustrate an exotic new realm of possibilities by sound alone.'
Winner Best Song Ambient/Instrumental Akademia Music awards July 2017
.....What I can tell ya about this particular post, is that we're dealing with another fantastic audio slice of the gigantic pie known as Galliano Sommavilla's 365 days of music extravaganza – you know, the one I told you about in the past review of his song "Ponder This" from a couple weeks back, where I explained all about this musical madman's extraordinarily ambitious year of writing, recording, and posting a brand-new original song for an entire year? Yep. That's same amazing project is where the "Chill Me Now" we're talking about is from.........
Sleeping Bag Studios
......Galliano Sommavilla created a masterful project of music over a one-year time-span and this is only one release in a slew of releases that showcase this musical endeavor. Vol. 18... is another strong release in the worlds of dance, electronic, pop, new age, neo-classical, trip-hop, and
instrumental. Galliano is one amazing one-man band with epic sounds coming from keyboards and such. The instrumental arrangements are timeless, emotive, and catchy in parts. 'Chill' is one word that comes to mind when summing up the album. It is aptly-titled and a joy for anyone interested in instrumental music. The new age and jazz additions are not to be ignored here. Importantly, the album is not one specific genre, but a collective of several produced and performed in a cohesive manner. There are no specific or general hiccups with this album. Each song is crystal-clear, appropriately-textured, and expertly-engineered. Coming from the land down under, Galliano certainly soars above the heavens with this release.......
Review by Matthew Forss Rating: 5 stars (out of 5)
As a contemporary pianist, composer, and musical pioneer in Australia, Galliano continues to change and evolve with the latest in musical offerings. The new single, "Chill Me Now," which is part of his song a day for a year production, was part of Vol. 3 as song 338. The five-minute instrumental tune brings together jazz, rock, new age, and dance infusions for a truly unforgettable journey.
Matthew Forss
'Chill Me Now' performed by Galliano and the Sommavillains Watch HERE
.....felt like its allure was extremely universal – "Space Travel" (song/day 18) is such an excellent track to simply let spin on repeat and sink your ears right into…the casual chilled-out atmosphere yields a sensationally addictive, captivating, and mesmerizing sound all around. And whenever you get to that first sprinkle of space-dust in the mix…I think it's somewhere around the 2:25 mark…when that pops up, it becomes like, damn near all you wanna hear – it entirely puts the cherry on top of what's been a 100% remarkable experience you'd never want to end already......
Sleeping Bag Studios March 2021
A technically elegant construction, 'A Romantic Interlude' (song/day 264) is a carefully staged conjugation of production savvy and songwriting intuition - Galliano Sommavilla has a winner here.'
Music Award Of Excellence Ambient/Instrumental August 2018
......If the last 30 or 35 years have taught us one thing about electronica, it is that electronica is not one particular style of music, but rather, many different styles of music. Electronica, depending on the artist, can be anything from harsh, abrasive, dissonant acid house to the more ethereal sounds of downtempo and chillout. And on 365, it is evident that Australia-based instrumentalist Galliano Sommavilla prefers the more ethereal side of electronica. There is nothing harsh or confrontational about "Day 266: The Lonely Wanderer," "Day 291: I Love You Guys" or any of the other songs on this 2016 release: the music, although lightly funky, is generally melodic, relaxed and laid-back. And the electronica that this Melbourne native provides is mostly chillout, downtempo or ambient.........
....Australian born Galliano Sommavilla has released yet another album from his 'original song a day for a year' project. I've listened to many 365 compilations, and am happy to announce that I was equally thrilled by this latest one, Vol. 4: Orchestral Vibes. While there are a few tracks I'd celebrate for effort rather than mastery, the album as a whole is consistent with Galliano's previous demonstrations of compositional skill and ingenuity. The overall feel of the album lands somewhere along the lines of a movie soundtrack to me—a war movie, to be exact—but not just any war, a war between magical worlds, creatures, or ideals. As usual, there is something magnetic and wondrous about Galliano's compositions, and this particular collection bursts forth with courage and emotion.......
....Now, my favorite: "Song/day 348." It's a gorgeous, immensely atmospheric track that depicts the best smelling, best temperature, calm after a storm—or, if we're sticking with the album as a story, a war of the elements. The choir melody is so beautiful my breath caught in my chest for a moment, and the chimes, haunting piano, and melancholy oboe working together sound like a church hymn or concerto – very spare, very quiet and contemplative. A hint of violin chords echo in the background, but they're barely prominent enough to be heard as anything more distinct than one's own breath. The choir and oboe call and respond as if passing a new soul back and forth, and toward the end the sound thickens, enveloping the listener amongst all the instruments and choir, their fullest expressions wafting over us at the same time. Where else but music, this music a prime example, do we find examples of and inspiration for courage, calm, connection?......
Album: 365 Vol. 4: Orchestral Vibe Artist: Galliano Sommavilla Reviewer: Alice Neiley
Listen HERE
'Hopeful and upright, 'Mr. Gal' (song day 25) invokes a reverence for someone deeply inspirational to the artist- and his audience in turn.'…
Akademia Music Awards April 2015 Winner for Best Song Ambient Instrumental

'Mr Gal'......A deeply moving and soothing modern instrumental composition. This work seems to radiate equal part sorrow and bliss beneath the rich and arrangements where finesse and sensitivity are key components.......
Boulimique de Musique Sept 2020
....Galliano Sommavilla's album 365 (original song a day for a year) Vol. 18 Chill'd, is a 12-song collection of instrumental music.
The album begins with "Song/Day 324". This one sounds a little like something out of a spy move. It rides to an insistent synth grove, over a percolating percussion bed. Its melody and structure brings to mind the Miami Vice Theme by Jan Hammer....

.....These 12 recordings are all different, even though they fit together well. It's a bit like jazz for the non-jazz fan. Smooth jazz fans will get it, while traditional jazz lovers might have a problem with all the electronics. Sommavilla has a strong sense of melody, which he applies to these memorable recordings. He felt, and rightly so, these recordings are best served chill'd......
Artist: Galliano Sommavilla
Album: 365 (original song a day for a year) Vol. 18 Chill'd Reviewer: Dan MacIntosh

.......Although Sommavilla maintains his devotion to the kinder, gentler side of electronica throughout 365, the album is fairly unpredictable. Sommavilla incorporates a wide variety of influences, ranging from hip-hop on "Day 354," and soul on "Day 232," "Day 351" and "Day 209" to jazz on "Day 291: I Love You Guys," "Day 82: A Worldly Adventure" and "Day 342: Lucy D'Albe." In fact, "Day 342: Lucy D'Albe" has a haunting melody that sounds a bit like "Cristo Redentor," a haunting tune that the late bop pianist Duke Pearson unveiled on trumpeter Donald Byrd's 1963 session A New Perspective for Blue Note Records ("Cristo Redentor" was heard 30 years later in a scene from Robert De Niro's film A Bronx Tale). Pearson's "Cristo Redentor" and Sommavilla's "Day 342: Lucy D'Albe" are definitely two different melodies, but even so, they have a similar mood: one that is pensive, spiritual and reflective. And when one is listening to "Day 291: I Love You Guys," "Day 82: A Worldly Adventure" or "Day 342: Lucy D'Albe," it is evident that even though 365 is not a jazz album per se, Sommavilla appreciates jazz..........
Review by Alex Henderson
'Got Me Thinking' (song/day 357) builds gradually around a meditative string ostinato to ultimately deliver a beautifully wrought instrumental
Winner Best Song Instrumental Akademia Music Awards May 2015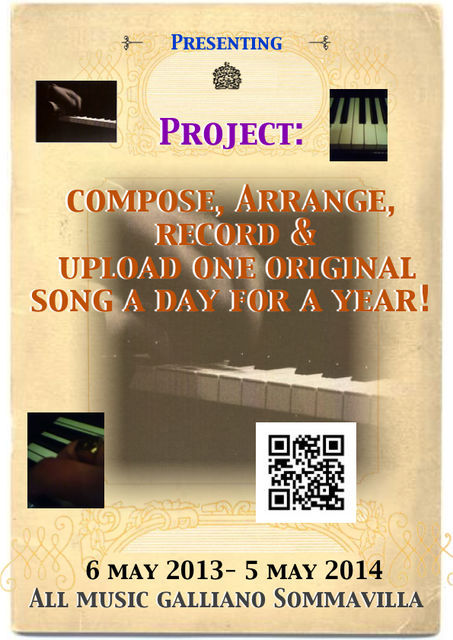 ......Emotion. Image. Journey. Magic. If four words could describe Galliano Sommavilla's work as I've experienced it, those would be the words. Furthermore, in 365 Vol. 10 Mixed 2, though he roots the album in many familiar instruments and moods, he also takes us on new journeys, with new landscapes, new equipment and emotional destinations. Despite the few flute moments that I could have done without, and the feeling that I'd like to have encountered even more Celtic sprinkled across the album as a whole, I thoroughly enjoyed 365 Vol. 10 Mixed 2 for its musical skill, sense of comfort in consistency, as well as its sense of experimentation and adventure. Keep it up, Galliano Sommavilla. I can hardly wait for the next installment.
Rating: 5 stars out of 5. Reviewed by Alice Neiley

Vol. 30 Ambient and Mellow
Self-Release
......Galliano Sommavilla, hailing from Australia, has released his latest compilation of songs borne out of a-song-a-day-project. Having released several albums of songs created each day over one year as part of his 365 project, Galliano continues to amaze listeners with his instrumental splendor on keyboards, guitars, percussion, and piano sounds. The latest album, Vol. 30..., contains fourteen tracks that are found in no particular order and titled "song/day". The whole feel of the album encompasses a more down-tempo theme that is serene and exploratory with a blissful side......
...All in all, Galliano Sommavilla satisfies new age tastes, down-tempo lovers, and instrumental connoisseurs with a knack for neo-classical, alternative jazz, and electronic music. Honestly, Galliano excels with another excellent compilation of songs to come out of the 2013 to 2014 project. Collect all the recordings by one of the most talented musicians in the down-tempo and electronic genres.
Review by Matthew Forss
....."Got Me Thinking" released on April 27, Day 357 sounds like the onset of an incredible journey. Alas, the prospective trekker is sidelined by introspective delays. Months earlier though on June 7, Day 36 "Maryanne's Paris" was released and is an upbeat motivational song with a driving beat making for good travel music.....
Kelly O'Neil
.....Galliano Sommavilla shows how to capture not just a mood but a specific moment in time with 'Ponder This' - a funky ambient piece that is alluring, thoughtful - and altogether inviting.'
Winner Best Song Ambient/Instrumental Akademia Music Awards November 2015


...'The ambient textures of 'The World Around Us' (song/day 26) bring to memory childhood mysteries; when the simple yearning to explore and map out our playground was the frontier of our lives.'
Winner Best Song Ambient/Instrumental Akademia Music Awards September 2015
......'Song/Day 81' is a beautifully sentimental piano and cello ballad showcasing Galliano Sommavilla's impeccable instinct for melodic musical arrangements
Winner Best song Instrumental/Classical Akademia Music awards February 2016
.......'A pulsing, twinkling act of meditation, 'Home Sweet Home' (song/day 257) advances by gentle excursions of string, transporting the listener to a place of deep contentment - home.'
Winner Best Song Ambient/Electronica Akademia Music Awards June 2015


.....Is anyone surprised to find that Galliano delivers at the highest level yet again? The track at hand, Ponder This, is an ethereal, melodic, and inspired instrumental. It sits somewhere between jazzy and tribal – a slightly melancholy undertone with perhaps just a touch of primordial feel, yet still modern in execution and production.......
....We're not surprised to be thoroughly enjoying Ponder This in the slightest. Galliano Sommvilla's work has impressed us time and time again, and this track is truly no exception. This song is a smooth, tasteful exercise in genre combinations and precise arrangements. Never overcrowded, constantly engaging, and soulful to its core, Ponder This is an exquisite show of musicianship and skill at the highest level.....
The Ark of Music September 2020